MiddLab Data Workshops: Resource and Citation Management with Zotero
–
Davis Family Library Wilson Media Development Lab
110 Storrs Road
Middlebury, VT 05753
View in Campus Map
Closed to the Public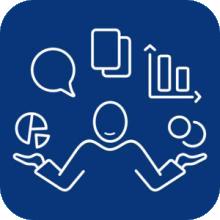 Zotero is an open-source citation management tool (like RefWorks or EndNote) which is free to use anywhere in the world. It is especially useful for anyone managing many sources, of various types, for multiple research projects. In this session, participants will learn how to:
* populate their Zotero library by importing or creating metadata from sources like books, articles, websites, etc.
* organize these citations and accompanying research materials such as notes
* produce bibliographies in various citation styles while using word-processing software (MS Word or Google Docs)
No prior experience with using Zotero is necessary. Basic understanding of academic citations is helpful, but not necessary.
This workshop will be held online via Zoom and in person.
Please click here to learn more and to register for this workshop.
Sponsored by:

Library