Mostra de Cinema Brasileiro: Estômago
–
Axinn Center 100
Old Chapel Road
Middlebury, VT 05753
View in Campus Map
Open to the Public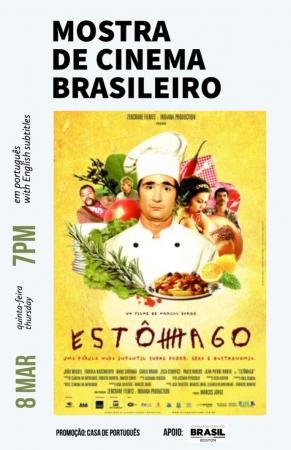 Estômago (2008), Marcos Jorge
Raimundo Nonato é um migrante nordestino que chega à cidade grande em busca de oportunidade. Aprende a profissão de cozinheiro, na qual se desenvolve e recebe uma melhor oportunidade de trabalho. Sua vida se complica ao se envolver com a prostituta Iria. O filme se passa entre o tempo atual na cadeia e a vida de Nonato no restaurante.
The world is made of those who eat and those who get eaten. Raimundo Nonato, our protagonist, finds an alternative way: he cooks. He cooks first in a bar, then in an Italian Restaurant and then in prison - how did he end up in jail? He cooks and learns how to get by in a society divided in two between those who eat and those who get eaten. What he learns, are a series of rules he uses to his advantage: in the end, the cook must also get his share of food and only he knows which part tastes best. Estômago is an adult fable on power, sex and cooking.
Sponsored by Portuguese House and the Brazilian Consulate in Boston
Sponsored by:

Portuguese