The Myth of Left and Right
–
Dana Auditorium (Sunderland Language Center)
356 College Street
Middlebury, VT 05753
View in Campus Map
Open to the Public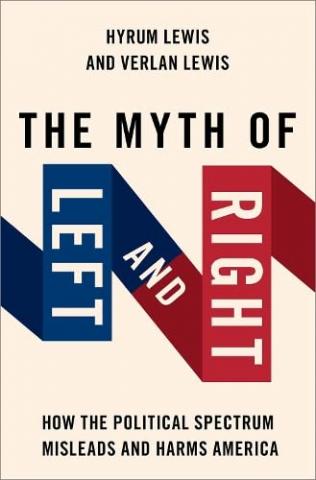 What is the enduring philosophy, disposition, or essence uniting the various positions associated with the liberal and conservative ideologies of today? Nothing at all, according to brother academics Hyrum and Verlan Lewis. Far from being an eternal dividing line of American politics, the political spectrum first came to the United States in the 1920s; since then, left and right have evolved in so many unpredictable and even contradictory ways that there is currently nothing other than tribal loyalty holding together the many disparate positions that fly under the banners of "liberal" and "conservative." The idea that the political spectrum measures deeply held worldviews is the central political myth of our time and a major cause of the confusion and vitriol that characterize public discourse.
Hyrum Lewis is an associate professor of history at Brigham Young University-Idaho. He received his PhD from the University of Southern California and was previously a visiting scholar at Stanford University.
Verlan Lewis is a visiting Scholar in the Center for American Political Studies at Harvard University and the Stirling Professor of Constitutional Studies at Utah Valley University. He received graduate degrees from Cambridge University and the University of Virginia and did postdoctoral work in the Stanford University Department of Political Science. He is also the author of Ideas of Power: The Politics of American Party Ideology Development (2019).
Co-sponsored by the Alexander Hamilton Forum.
Sponsored by:

Political Science