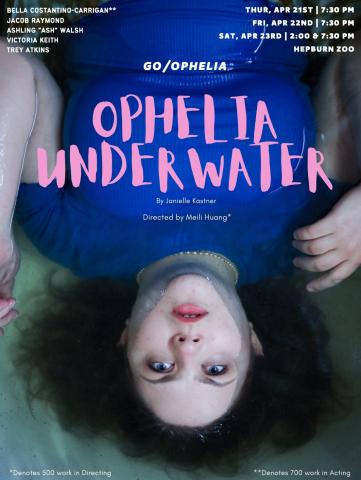 Ophelia had everything: the boyfriend, the plan, the dress. Her life was a comedy. Until it really, really wasn't. Set underwater in the mind of Hamlet's forgotten, drowned heroine seconds after falling (or jumping?), Ophelia cross-examines her story, her existence, and most importantly - her ending. With the clock (literally) running out of time, Ophelia must decide how much she's willing to pay to be the author of her own story.
This play is the senior work for Bella Costantino-Carrigan in acting and costume design and an intermediate independent project in directing for Meili Huang. go/ophelia
Current COVID-19 guidelines for arts events are as follows:
Full vaccinations and boosters (or valid medical or religious exemptions) required.
Masks required.
If you have symptoms or have been exposed to or tested positive for COVID-19 within the past 5 days, you may not attend arts events.
Sponsored by:

Theatre