–
Mahaney Arts Center 125
72 Porter Field Road
Middlebury, VT 05753
View in Campus Map
Free
Open to the Public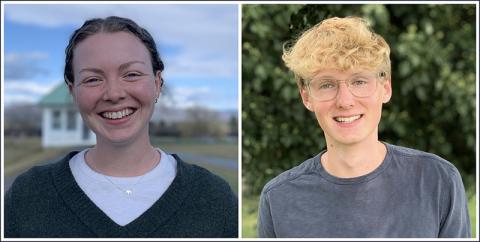 Join us for these two engaging Reiff Intern student talks:
Memorial Photography: A Practice of Nostalgia
by Niamh Carty
Closely following the invention and proliferation of photography, the phenomenon of postmortem images occupied the minds of civilians across the United States. Death during this time often occurred in the home and families would commission photographers to come there and photograph deceased loved ones. Sometimes living family members would pose alongside the deceased, as seen in Woman Holding a Dead Child (Middlebury College Museum of Art). Perplexing, perhaps even disturbing, as it may be to the modern audience, these memorial photos were usually the only remaining visual record of loved ones, rendering them a nostalgic, loving act of remembrance. Today, however, such nostalgia creates a conflict with the modern audience's cultural shift away from this practice, and, even more so, in opposition to it.
Niamh is a junior Art History and English double major. In her free time she enjoys playing Ultimate frisbee and spending time outside.
Scandal, Romance, and the Mundane: An Exploration of Motif and Visual Cues of Tale of Genji Screens
by Ethan Moss
Written over 1000 years ago, the Japanese novel The Tale of Genji has become a cultural phenomenon, inspiring a rich artistic tradition. Not only is the tale recognized as the world's first novel, but it was also written by a female author, Murasaki Shikibu. Shikibu's novel is an exploration of romance, scandal, and the daily life of Japan's Imperial Court. Stemming from voyeuristic traditions of the novel, folding screens have become a prolific way to tell Genji's story. The Middlebury College Museum of Art is fortunate enough to have two painted Tale of Genji folding screens that showcase the visual traditions of Japan's Edo Period. Through exploring the novel, one can understand the development and purpose of common visual motifs featured on the screens, along with their functional purposes.
Ethan Moss is a junior at Middlebury College where he is majoring in Art History and minoring in Chinese. In his free time, he enjoys cooking new recipes, cycling, and spending time outdoors.
Sponsored by:

Museum of Art