Represent This! Black Bodies, Green Space and Radical Self-Care
–
Virtual Middlebury
Open to the Public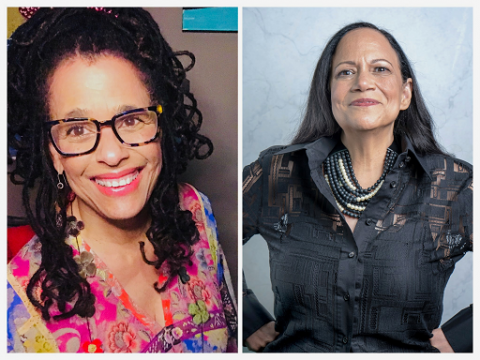 "Nothing is more intimate than your body in the world" – Alice Randall
NY Times bestselling author & activist Alice Randall joins artist & Middlebury scholar-in-residence Carolyn Finney for a conversation where they give up the "t" on the intimate experience of being a black body on a green and imperiled planet. 
Join them as they go off the beaten path to dig into self-care, allyship, Black possibility and the art of living. 
What would a Black Walden Pond look like? 
This lively virtual conversation will be moderated by Mel Payne '21 and Sydney Smith '24.  Bring your good questions and open heart!
Click here for more information and to register for this virtual event.  
Sponsored by Franklin Environmental Center, Black Studies Program, Program in Environmental Studies, Axinn Center for the Humanities, Department of English and American Literatures
This talk is the second installment of OUT LOUD: Giving up the Goods about Green, a series of conversations with Carolyn Finney. 
Sponsored by:

Environmental Affairs; Environmental Studies; Axinn Center for the Humanities; English & American Literatures; Black Studies