Reproductive Justice Mini Golf Course
–
Middlebury College
Middlebury, VT 05753
Open to the Public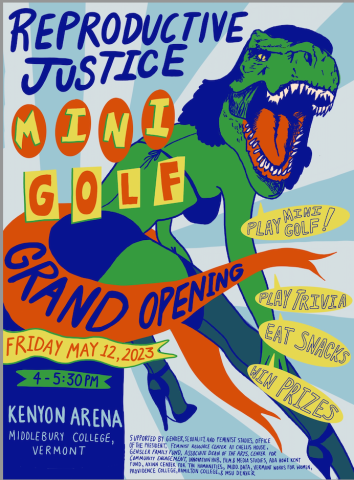 Location: Kenyon Arena
The feminist Reproductive Justice Mini Golf course is now open to the public! Come and learn about reproductive justice, enjoy student art, and play mini golf—all free of charge! 
Click here for more information or contact Carly Thomsen.
Supported by: Gender, Sexuality, and Feminist Studies, Office of the President, Feminist Resource Center at Chellis House, Erin Quinn and Middlebury Athletics, Gensler Family Fund, Associate Dean of the Arts, Center for Community Engagement, The Innovation Hub, Film and Media Studies, Midd.Data, Ada Howe Kent Fund, Axinn Center for the Humanities, and Vermont Works for Women, as well as faculty and students at Metropolitan State University, Denver, Providence College, University of Kansas, and Hamilton College. 
Sponsored by:

Gender, Sexuality, & Fem Studies