The Role of Intelligence in US Foreign Policy
–
Robert A. Jones '59 Conference Room
148 Hillcrest Road
Middlebury, VT 05753
View in Campus Map
Open to the Public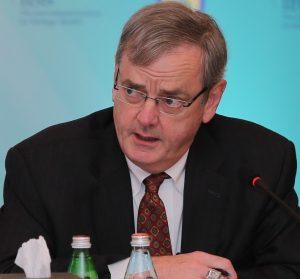 The Rohatyn Center for Global Affairs program on Security and Global Affairs presents Jack Gill '77 and "The Role of Intelligence in US Foreign Policy."
Colonel Jack Gill '77 will talk about the role that intelligence plays in US foreign policy. How does the intelligence community operate? How does it relate to the policy community? What are the problems in this relationship? How is intelligence evolving today?
Jack Gill is a Middlebury grad (1977), who went on to a distinguished career in the US Army, working in intelligence. He ended his career as a full colonel and then went on to another career at the National Defense University's Near East and South Asia Center.
In-person at the Robert A. Jones '59 conference room. Available via Zoom webinar as well. Visit here for registration.
For more information visit The Rohatyn Center for Global Affairs events page. 
Sponsored by:

Rohatyn Center for Global Affairs