–
Wilson Hall, McCullough Student Center
14 Old Chapel Road
Middlebury, VT 05753
View in Campus Map
Tickets: $25/20/15/10/5
Open to the Public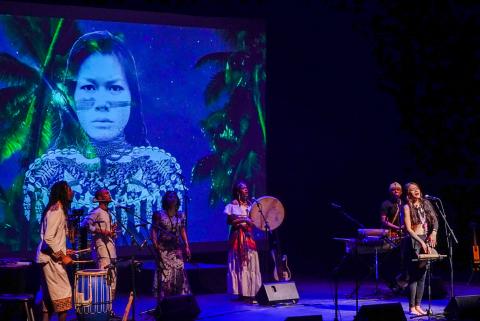 Small Island Big Song is a multi-platform project uniting the seafaring cultures of the Pacific and Indian Oceans, a region at the frontline of the climate crisis. Indigenous artists come together with filmmakers and poets to present irresistible oceanic grooves and soulful island ballads collected across 16 countries, all guided by the artists on their respective islands. Experience the concert event that Billboard calls "one coherent jaw-dropping piece."
Motivated by the 5th IPCC report on climate change, Taiwanese producer BaoBao Chen and Australian music producer/filmmaker Tim Cole spent three years visiting artists on their homelands, recording with their guidance in nature, sharing songs from island to island. The outcomes include two award-winning albums, a feature film, educational programs, and this live concert that has toured around the world across four continents, reaching over 200,000 people since the world premiere at SXSW 2018.
"Impassioned choruses are joined with polyrhythmic beats, meditative passages cool the pace between songs tailor-made for dancing, indigenous instruments support modern sensibilities and vice versa… one very big, very happy family doing what they do best while helping get the word out on a most serious issue."—RootsWorld 
Learn more about the artists.
Watch a video.
Program:
To be announced from the stage, by the eight musicians and vocalists from New Zealand, Taiwan, Australia, Madagascar, Solomon Islands, Mauritius, Marshall Islands, Papa New Guinea, and Tahiti
Tickets: $25 general public | $20 Middlebury ID holders | $10 Youth (Under 21) | $5 Middlebury students. General admission. Approximate running time: Two hours, including 1 intermission.
Buy tickets: http://go.middlebury.edu/tickets
Performance subject to change.
Sponsored by:

Performing Arts Series