Spring Break Kinetic Art Workshop
–
Mahaney Arts Center 232
72 Porter Field Road
Middlebury, VT 05753
View in Campus Map
Closed to the Public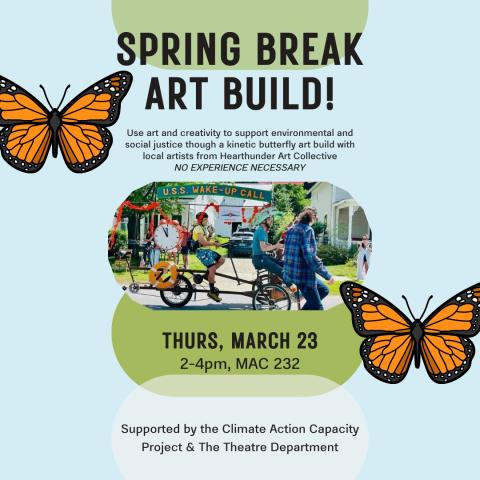 Join the Hearthunder Art Collective to collaborate on a kinetic butterfly art installation in preparation for this spring's Art vs. Apocalypse events on the roles of art and creative expression in confronting climate change and environmental challenges!
All materials provided. No experience necessary!
About the Collective: Our mission is to use Art and Creativity to support Environmental and Social Justice Organizations in their efforts to engage and inspire the public in movements for positive change. We believe that protests, marches, outreach campaigns and other forms of moving the needle are all more effective when they are big, bold, and beautiful. We want to turn 'protests' into 'parties', 'marches' into 'rolling dance floors', and 'outreach' into 'awesome'.
Sponsored by:

Environmental Affairs