–
Mahaney Arts Center, Olin C. Robison Concert Hall
72 Porter Field Road
Middlebury, VT 05753
View in Campus Map
Tickets: $25/20/15/10/5
Open to the Public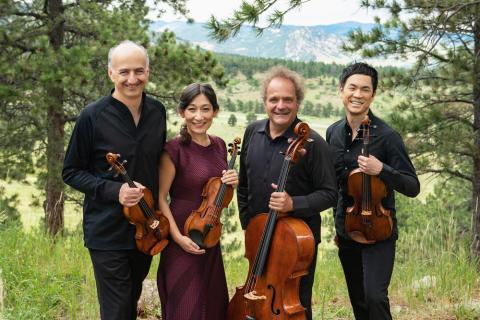 Now in their 49th season and "the Takács Quartet remains one of the greatest chamber string ensembles we have on the world stage." (Scherzo magazine) Finally we can present their entire Bartók string quartet cycle, delayed from our 100th anniversary season in 2020. This ensemble has always had a particular association with Béla Bartók, the great 20th-century Hungarian composer whose six quartets are among the pinnacles of 20th-century chamber music.
The Middlebury Performing Arts Series has enjoyed a long-standing friendship with the Takács—this concert marks their 28th appearance on our campus. Among their many accolades: a Presto Music Recording of the Year Award, four Gramophone Awards, a Grammy, three Japanese Record Academy Awards, a Wigmore Hall Medal, and induction into the Gramophone Hall of Fame. When not performing, these gifted musicians are Associate Artists at London's Wigmore Hall, and Christoffersen Fellows and Artists in Residence at the University of Colorado, Boulder.
"Classical music doesn't get much more life-enhancing than this."—The Guardian
Learn more about the artists: takacsquartet.com
Watch a video: https://youtu.be/w2Rlix_SEtc
Friday Program:
Béla Bartók: Quartet No. 1 op.7 (sz. 40)
Béla Bartók: Quartet No. 3 (sz. 85, 1927)
Béla Bartók: Quartet No. 5 (sz. 102, 1934)
Sunday Program:
Béla Bartók: Quartet No. 2 op.17 (sz. 67)
Béla Bartók: Quartet No. 4 (sz. 85, 1928)
Béla Bartók: Quartet No. 6 (sz. 114, 1939)
Tickets: $25 general public | $20 Middlebury ID holders | $10 Youth (Under 21) | $5 Middlebury students. General admission. Approximate running time: 90–100 minutes, including one intermission, for each concert. Buy tickets: http://go.middlebury.edu/tickets
Performance subject to change.
Sponsored by:

Performing Arts Series