Tariquía: las luchas de mujeres frente a la ofensiva petrolera en Bolivia
–
Virtual Middlebury
Open to the Public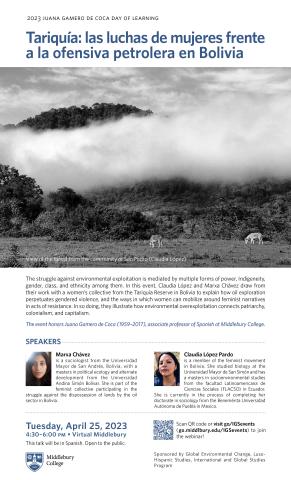 Juana Gamero de Coca Day of Learning 2023
This annual event honors Juana Gamero de Coca (1959-2017), associate professor of Spanish at Middlebury College.
The struggle against environmental exploitation is mediated by multiple forms of power, Indigeneity, gender, class, and ethnicity among them. In this event, Claudia López and Marxa Chávez draw from their work with a women's collective from the Tariquía Reserve in Bolivia to explain how oil exploration perpetuates gendered violence, and the ways in which women can mobilize around feminist narratives in acts of resistance. In so doing, they illustrate how environmental overexploitation connects patriarchy, colonialism, and capitalism.
Marxa Chávez is a sociologist from the Universidad Mayor de San Andrés, Bolivia, with a Masters in Political Ecology and Alternate Development from the Universidad Andina Simón Bolívar. She is part of the feminist collective participating in the struggle against the dispossession of lands by the oil sector in Bolivia.
Claudia López Pardo is a member of the feminist movement in Bolivia. She studied biology at the Universidad Mayor de San Simón and has a Masters in Socioenvironmental Studies from the Facultad Latinoamericana de Ciencias Sociales (FLACSO) in Ecuador. She is currently in the process of completing her doctorate in sociology from the Benemérita Universidad Autónoma de Puebla in Mexico.
This event will be conducted in Spanish.
Please click here to join this Zoom webinar.
Sponsored by:

International & Global Studies; Luso-Hispanic Studies; Global Environmental Change