Virtual Opening for the Museum of Art's Fall 2021 Exhibitions
–
Virtual Middlebury
Free
Open to the Public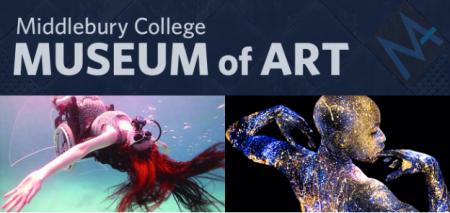 From the comfort of home, get a behind-the-scenes look at the Middlebury College Museum of Art's Fall 2021 special exhibitions: "Art & Protest: Artists as Agents of Social Change" and "A New Lens: Contemporary Video and Animation." Live from the museum's galleries, curators will talk about their process, highlight several works, and answer your questions.
Your hosts for the evening will be Museum Director Richard Saunders, A New Lens curator Sarah Briggs '14.5, and Art & Protest co-curators María Ramirez '21 and Jason Vrooman '03.
The event will air live via an embedded Vimeo feed on the Livestream page of the museum's website where viewers will be able to watch as well as engage with chat and Q&A functions: http://museum.middlebury.edu/news/livestream. Advance registration is NOT required.
The event will also be simulcast to the museum's Facebook page and Twitter feed: https://www.facebook.com/middartmuseum, https://twitter.com/middartmuseum. Please note that though comments and questions WILL NOT be actively monitored in these locations.
We encourage viewers to familiarize themselves in advance with how to access and participate in the chat and Q&A functions. (https://vimeo.zendesk.com/hc/en-us/articles/360034287012-Participate-in…)
Questions? Contact Mikki Lane at mlane@middlebury.edu or (802) 443-2309. We look forward to sharing with you on Thursday!
Image credits: Left: Sue Austin, Video still from Creating the Spectacle, 2012, digital video, 7 minutes. Courtesy of the artist. Right: Mikael Chukwuma Owunna (American, born 1990), Nommo Semi (The Guardian of Space) [detail] from the series Infinite Essence, 2018, metal print, 24 x 36 inches. Collection of Middlebury College Museum of Art. Purchase with funds provided by the Henry J. Simonds Student Curator Fund, 2021.
Sponsored by:

Museum of Art

Related URL: