–
Mahaney Arts Center, Olin C. Robison Concert Hall
72 Porter Field Road
Middlebury, VT 05753
View in Campus Map
Tickets: $25/20/15/10/5
Open to the Public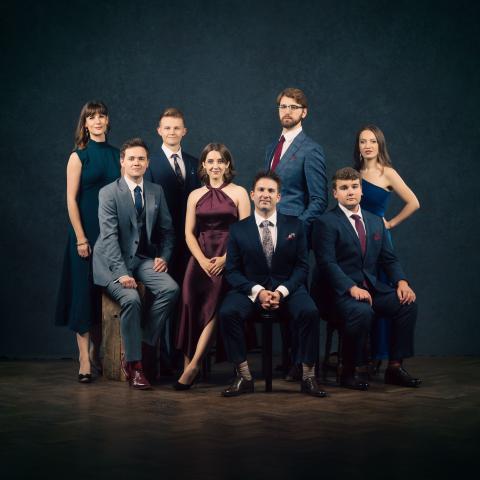 The 2023 Grammy-nominated British vocal ensemble VOCES8 inspires people through their music and by sharing their joy of singing. Versatility and a celebration of diverse musical expression are central to the ensemble's performance and education ethos. Their performances are praised for their meticulous timing and tuning, impressive blend, and radiant sound. VOCES8's Vermont debut program, entitled "20 Songs from 20 Years," features beloved music from across the centuries and pieces by contemporary composers that the ensemble proudly calls friends.
VOCES8 is passionate about music education and is the flagship ensemble of music charity the VOCES8 Foundation, with the motto "Music Education for All." Their broad range of outreach work reaches up to 40,000 people a year, including an annual series of workshops and masterclasses at the Foundation's home in London. The group's latest album is "The Lost Birds," featuring music by Christopher Tin; new projects with Eric Whitacre, Paul Simon, and Taylor Scott Davis are being released this season.
This performance is made possible thanks to generous support from the members of the Performing Arts Series Society.
"The singing of VOCES8 is impeccable in its quality of tone and balance. They bring a new dimension to the word 'ensemble' with meticulous timing and tuning."—Gramophone
"VOCES8 are the Rolls-Royce of British a cappella ensembles"—The Arts Desk
Learn more about the artist: https://voces8.com/
Watch a video: https://youtu.be/5l8VLFRFM1c
Watch VOCES8 take on 21st century work: https://www.youtube.com/watch?v=vRcVB7ao_UQ
Program:
Orlando Gibbons: O Clap Your Hands
Orlando Gibbons: Drop, Drop Slow Tears
Arvo Pärt: The Deer's Cry
Sergei Rachmaninov: Bogoroditse Devo
Jake Runestad: Let My Love Be Heard
Paul Smith: Nunc Dimittis
Ola Gjeilo: Ubi Caritas
Felix Mendelssohn: Denn er hat seinen Engeln
Caroline Shaw: and the swallow
Edward Elgar, arr. James Cameron: Lux Aeterna (Nimrod)
Claudio Monteverdi: Book VI: Lagrime D'amante al Sepolcro Dell'amata (Sestina Madrigals)
Thomas Weelkes: As Vesta Was
Orlando Di Lasso: Dessus le marché d'Arras
Kate Rusby, Arr. Jim Clements: Underneath The Stars
Spiritual, arr. David Blackwell: Steal Away
Gregorio Allegri: Miserere Mei, Deus
Tickets: $25 general public | $20 Middlebury ID holders | $20 PASS members | $10 Youth (Under 21) | $5 Middlebury students. General admission. Approximate running time: 90 minutes, including one intermission. Buy tickets: http://go.middlebury.edu/tickets
Performance subject to change.
Sponsored by:

Performing Arts Series