Walking Tour of Outdoor Sculpture Led by Student Guides
–
Mahaney Arts Center
72 Porter Field Road
Middlebury, VT 05753
View in Campus Map
Open to the Public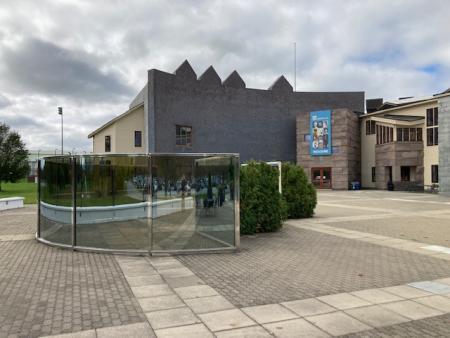 Fall Family Weekend visitors are invited to join student guides for a walking tour of Middlebury's outdoor sculpture collection. Highlights of this 90-minute tour will include works by Shahzia Sikander, Vito Acconci, Joseph Beuys, Jules Olitski, Dan Graham, and Michael Singer.
- Although this entire tour will be outdoors, participants will be expected to wear masks at all times. Thank you for your cooperation.
- Tour will happen rain or shine; please plan accordingly.
Reservations not required.
Tour will meet on the plaza behind the Mahaney Arts Center (near the parking lot; see picture in this posting). It will move across campus and end by the Christian A. Johnson Memorial Art Building. Please see accessibility notes below for more information.
Accessibility notes:
- Guides' voices will be amplified. (Please note that some guides will be masked while speaking. Please reach out in advance with questions about other accessibility options.)
- Tour will last approximately 90 minutes and will cover approximately 1 mile, beginning at the Mahaney Arts Center and finishing at the Johnson Art Building. Participants are welcome to drop out of the tour at any time.
- Limited seating will only be available at three points in the tour; participants should anticipate walking standing most of the time (or bring necessary accommodations).
- Terrain covered will include slight inclines but no steps.
- Most of the tour will take place on paved ground. Guides will leave pavement and enter slightly uneven, grassy terrain at two points during the tour. Alternate routes that remain on pavement at all times can be arranged; please inform the event hosts of your interest in this option upon arrival.
Can't join this tour? We're offering the same tour on Friday, Oct. 8 (1:30-3 p.m.), or you can take a self-guided walking tour of campus sculpture at go.middlebury.edu/PublicArt/ (case sensitive; be sure to include final slash).
Questions? Email (preferred) or call Jason Vrooman at jvrooman@middlebury.edu or 802.443.2248
Sponsored by:

Museum of Art