The War over History: Russia and Ukraine on the Brink of Defining Their Identities
–
Virtual Middlebury
Open to the Public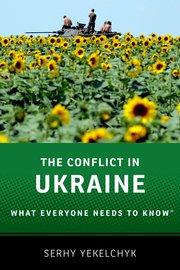 The Rohatyn Center for Global Affairs program on Global History presents Dr. Serhy Yekelchyk and "The War over History: Russia and Ukraine on the Brink of Defining Their Identities."
While the world media and military strategists focus on the next move of the Russian armada massing near the Ukrainian border, only history can tell us why the Russian troops are there. This talk will trace the historical origins of the Russians' unwillingness to accept an independent Ukrainian state and explain how Ukraine became the battleground in the centuries-long Russian crusade against Western influences, including the very concept of democracy. Whether or not a major war begins soon, the ongoing conflict has only strengthened the Ukrainian national identity. In order for peace to become possible, Russia would also need to reimagine itself as a nation rather than an empire.
Serhy Yekelchyk is professor of Slavic Studies and History at the University of Victoria and the author of Ukraine: What Everyone Needs to Know, 2nd edition (Oxford University Press, 2020).
To join this webinar, please use this Zoom link or visit the Rohatyn Center for Global Affairs events.
Sponsored by:

Rohatyn Center for Global Affairs