"Where There Is a Womyn There Is Magic" The Murals of the AFC
–
Anderson Freeman Resource Center
452 College Street
Middlebury, VT 05753
View in Campus Map
Free
Open to the Public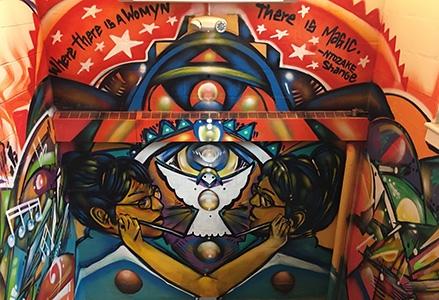 Women of color artists, writers, and performers have been the heart and soul of social justice activism throughout history. With little to no recognition, they have woven magic as the visionaries, the healers and caretakers, the water, and the breath.
Twilight Artist-in-Residence Will Kasso Condry will talk about his residency and the inspirations behind the community murals of the Anderson Freeman Resource Center that he produced with assistance from Zarai Zaragoza '18 and other Middlebury students this past spring. There will be time for Q&A and to tour the murals. Lunch will be served.
RSVP to afc@middlebury.edu by May 10. Space is limited.
Sponsored by:

Anderson Freeman Resource Center

Related URL: