Your Sexts are Sh*t: Older Better Letters
–
Wright Theatre
96 Chateau Road
Middlebury, VT 05753
View in Campus Map
Tickets: $25/20/15/10/5
Open to the Public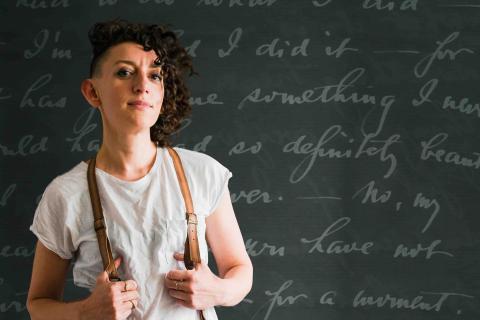 Written and performed by Rachel Mars. Award-winning theatre maker Rachel Mars performs a gloriously rude new solo show that unearths the hot-as-hell letters that make sexts blush. Before sexts there were hand-written letters—and loads of them were properly filthy. With the help of the internet, friends, and two sexologists, Mars has unearthed missives dating back centuries. Triangulating these sex and love letters of long dead artists with contemporary sexts and a meditation on the construction of the queer female body, the show is a hilarious, tender, and surprising hour that asks: how do we write ourselves, and for whom?
Come! Take pleasure in James Joyce's passion for bum; find out who sneaked her gay lover into the White House; hear from Frida Kahlo, Georgia O'Keeffe, and Mozart; and bear witness to the best/worst sexts ever sent. This delightfully intimate, very funny, and surprisingly moving show is an erotic archive shot through with Rachel's personal ventures in contemporary Queer kink.
Q&A with the artist after each performance.
"A triumphant show…dripping with uninhibited desire." ????—FEST
"Mars raises a toast to the human libido, elevating the carnal alongside the cerebral. In her hands, intimate human connection seems such a wondrous thing. Stirs your soul as much as your senses." ????—EdFest Magazine
Additional Letter Material written/performed by Lesley Ewen
Dramaturgical support by Wendy Hubbard & nat tarrab
Lighting designed by Alex Fernandes
Sound designed by Dinah Mullen
Produced by Lucy Jackson
Touring Production Manager Helen Mugridge
Learn more about the artist: http://www.rachelmars.org/
Watch a video: https://vimeo.com/339099320
Tickets: $25 general public | $20 Middlebury ID holders | $10 Youth (Under 21) | $5 Middlebury students. General admission. Approximate running time: 1 hour, 15 minutes with no intermission. Q&A to follow. Buy tickets: http://go.middlebury.edu/tickets
Performance subject to change.
Funded in part by the New England States Touring program of the New England Foundation for the Arts, made possible with funding from the National Endowment for the Arts Regional Touring Program and the six New England state arts agencies.
Sponsored by:

Performing Arts Series; Theatre