Zoom Talk with Shlomi Alon - from "HaDag Nachash" band
–
Virtual Middlebury
Open to the Public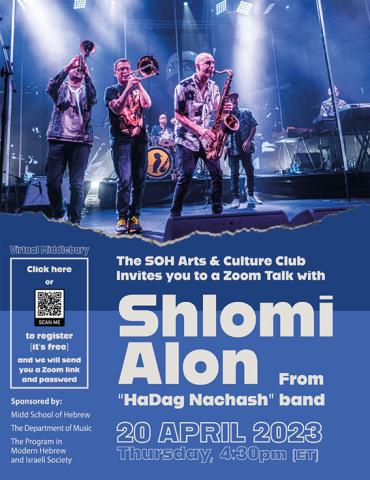 A Zoom talk with Shlomi Alon, a well-known and active musician in Israel - as a playing musician (he plays the saxophone, flute and other musical instruments), as a composer, as a songwriter and as a singer.
Shlomi is one of the founders and members of "HaDag Nachash" - a band that celebrated its 25th anniversary this year. This is the most popular and successful band in Israel.
The band's musical style is Mediterranean Rap. The band's songs, for the most part, are protest songs against the injustice, inequality and government' wrong doing. These songs are the main soundtrack of the demonstrations and protests that are taking place in Israel.
In addition, Shlomi is involved in other musical projects (including his own music) as a musician, as a singer and as a musical producer.
Please use this link to register, and we will send you the Zoom link to join the talk.
Sponsored by:

Music; Hebrew; Modern Hebrew