Chigozie Ogwuegbu-Stephens '02
"My Middlebury education … taught me the importance of learning from different experiences and using that knowledge to make better decisions in the future. This was especially useful in the military, as I often had to make important decisions quickly and in difficult circumstances."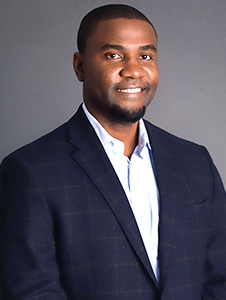 Why did you decide to pursue national service and the military?
I wanted to serve my country and make a difference. As a recently naturalized American citizen, I was grateful for the opportunities that America had provided my family and I was eager to serve America to show my gratitude. Additionally, 9/11 happened during my junior year at Middlebury, and with the current anti-terrorism fervor at the time, it was important to me to be part of something bigger than myself and make a lasting impact.
How did your Middlebury liberal arts education factor into the mindset, perspectives, approach you took to your military service?
My Middlebury liberal arts education gave me a deep appreciation for the importance of understanding different cultures and perspectives. This appreciation was essential for my military service, as I was shoulder-to-shoulder, fighting alongside soldiers from across America—rural America, urban America, Midwest, Southwest, New England, etc.—and I was often in foreign countries and interacting with people from different backgrounds. My Middlebury education also taught me the importance of learning from different experiences and using that knowledge to make better decisions in the future. This was especially useful in the military, as I often had to make important decisions quickly and in difficult circumstances.
Middlebury has an ethic of service to a community. What do you want to tell others about serving your community or your country through military service?
Serving in the military is an honorable profession that requires courage, commitment, and dedication, and it is a great way to serve and protect your community, country, and world. It can also be an incredibly rewarding experience that will teach you valuable skills, provide you with unique opportunities, and allow you to make a meaningful contribution to the world. It also allows you to make long-lasting friendships with folks with whom you have shared moments in combat.
How did your experiences at Middlebury and with military service factor into upcoming opportunities or pursuits?
They provided me with instant credibility as a servant leader. My path in the financial service industry came about through a Junior Military Officer Leadership program hosted at the organization, ultimately setting my course in corporate America. As a veteran, I have utilized my GI Bill to further my education and continue to advance my career.
What advice would you give to others who may be considering military service?
You must research, understand why you want to serve, and know what you're signing up for. Secondly, talk to someone who has served in the military, or talk to a recruiter to better understand a service member's lifestyle and expectations. The military is a journey, and you must be mentally, spiritually, and emotionally ready for that journey. Lastly, think through what you want to do after the military (unless you plan to be a lifer); it can be helpful to plan for your exit at the beginning so that you can work through that plan during your time in service.