Bio of Alexander Twilight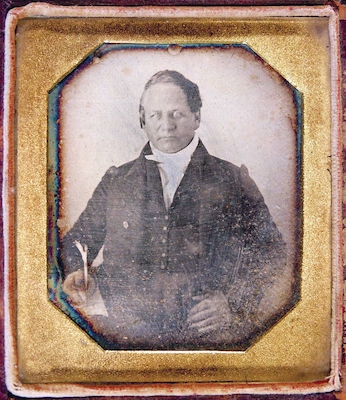 Alexander Twilight (1795-1857), the son of Ichabod and Mary Twilight, was born in Corinth, Vermont, on September 23, 1795. He was raised by a mixed race father who served as a private in the American Revolutionary War, and his wife Mary, a white woman. In the Vermont 1800 census, the Twilights are listed   under the racially ambiguous category: Others free except Indians. Alexander Twilight was forced to work as an indentured servant on a farm near his home from the age of eight until he was 21. 
Alexander Twilight entered Middlebury College in 1821 and graduated in 1823, one of eighteen men to receive the B.A. degree. During his two years at Middlebury, four male professors and four male tutors instructed the student body of more than 100 men. Elected to the Vermont General Assembly in 1836, Twilight became the first American of African descent to serve in a state legislature in the United States. Likewise, Alexander Twilight has been noted as the first person of color to graduate from an American college. While recent scholarship complicates the history of Twilight's racial identity, the clarity of his achievements as a Middlebury graduate, educator, and statesman are undiminished.