Bowdoin College Grantee Pursues Peace through Poetry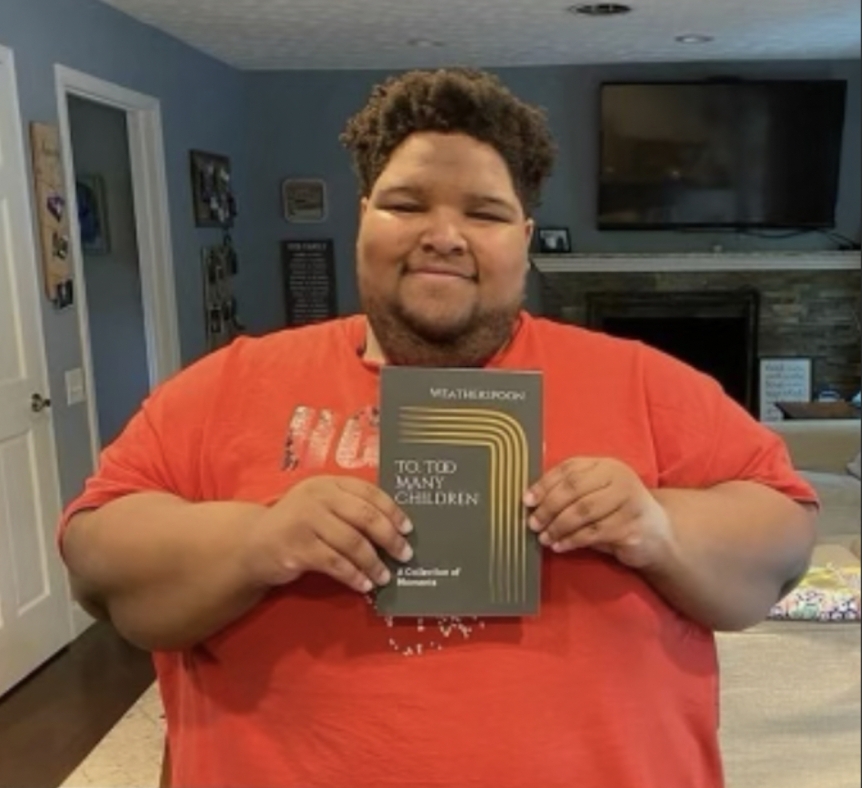 As the Bowdoin community moves into the second half of the spring semester, Weatherspoon '25 is preparing to launch a life-changing summer program for children in the foster care system.
The project, called Take Care Initiative, will be funded by a Middlebury College Projects for Peace award, which supports undergraduates who propose "innovative, community-centered, and scalable" projects to improve people's lives.
"Every year 100 or more student leaders are awarded a grant in the amount of $10,000 each to implement a Project for Peace, anywhere in the world, typically over summer break," according to the program. "Projects for Peace are grassroots activities that address root causes of conflict and promote peace."
Weatherspoon's Take Care Initiative will take them back to their home city of Cleveland, Ohio, to enrich the lives of high schoolers with an unexpected artistic medium—poetry.
"A foster kid is a kid of many labels," Weatherspoon said. "Deconstructing those labels and understanding them will empower the youth to move through the world with a new tenacity and a firm grip on their value as a member of their community and advocate for their own well-being and the well-being of others."
While Weatherspoon just recently learned they had been awarded the grant, they believe the execution of this project has been a long time coming.
"I've been thinking about this forever. If I didn't get this specific opportunity, it would have come in another form," they said. "These ideas were taking shape since I was conscious. I have always wanted to do this work—to explore intimacy and relationships between people through poetry, to tell stories that matter across communities and stories that don't get told."
For Weatherspoon, who has been in and out of the foster care system in Cleveland since childhood, the Take Care Initiative is deeply personal.
"People have come and gone—father and mother figures I thought would be permanent ended up letting me down," they said. "I grew up with abandonment and trust issues, and I didn't really have the tools I needed, as early as I needed them, to be able to get through that unscathed. Now, I want to pass them on."
Meg Springer, senior associate director and advisor with Bowdoin's Career Exploration and Development, advised Weatherspoon's application. "Each year I'm touched by the sensitivity and thoughtfulness that applicants put into applying for this award," she said. "When Weatherspoon met with me early in the fall to propose an idea to incorporate literacy, arts, and the spoken word to promote social intelligence—sharing that 'language is power'—I was intrigued."
Weatherspoon continued to elaborate upon the idea of helping youth develop the voice to advocate for themselves, she added. "When Weatherspoon told me that literacy and art has been healing for them, and they wanted to spread this opportunity to others, I knew it was right in line with a Projects for Peace award."
During the times in Weatherspoon's life where their conceptions of family and home were the least secure, they sought solace in poetry, writing, and literature. They published their debut poetry collection, To, Too Many Children: A Collection of Moments, and it went on to become an Amazon bestseller. Now, as a sophomore at Bowdoin, they hope to share their skillset with the foster community from which they came.
"I self-published [the collection] as a message to the nearly 3,000 other foster kids who maybe shared a similar experience in the city of Cleveland," Weatherspoon said. "At seventeen years old, my life began to change for the better. I would like to give foster children in a similar position the emotional and literary tools to succeed as I have."
Over the summer, Weatherspoon will invite a cohort of Cleveland foster children aged fourteen to eighteen to participate in the Take Care Initiative. After introducing them to a literary canon of marginalized, contemporary authors such as Jason Reynolds, Junot Diaz, and Ocean Vuong, the students will engage with multiple forms and media of poetry. Finally, they'll craft poems of their own—which Weatherspoon believes will be the most personally gratifying part of the summer.
"Watching people develop [their poetry] is such a unique experience," they said. "When a person writes a poem that gets them excited and or invigorated about the art form, that pride reflected off of their face is a really huge milestone."
For Take Care Students, Weatherspoon argues that the process of reaching this milestone will be challenging. In preparation for these challenges, they allocated funding for student mental health support in their project proposal.
"I think it's really important to [provide this support] because most of the work we're going to be doing weighs heavy on the mental and emotional aspects of their being," Weatherspoon said. "I want to make sure that they have all the tools necessary to open those doors and walk through them."
Another challenge of this work, Weatherspoon predicts, will be garnering the trust of the students that they are working with. Although Weatherspoon might share some lived experiences with their students, Weatherspoon worries that it could be an uphill battle.
"The reality of it is that these people are disenfranchised. They've been told over and over that their voice doesn't matter. Me, a stranger to them, coming into their community and saying, 'Hey, I can help you'—I'm expecting them to not believe that," Weatherspoon said. "But I really do think that the work is transformative. If I could change one person's mind about how they feel about the word, I think it could change the trajectory of their whole life. That's what it did for me, and I just want to keep that going."
Despite challenges of the road ahead, Weatherspoon believes that the Take Care Initiative—from the poetry workshops to the public speaking classes to the end-of-summer performance in a downtown Cleveland concert hall—has the potential to change lives. Now, with funding secured, they can focus on planning for June.
"I'm really excited to, first, hear a bunch of new work," Weatherspoon said. "But also to see the change in the life of that person who gets to have that thing that they're proud of—that no one can ever take away."