Connecticut College Grantee Focuses on Educational Community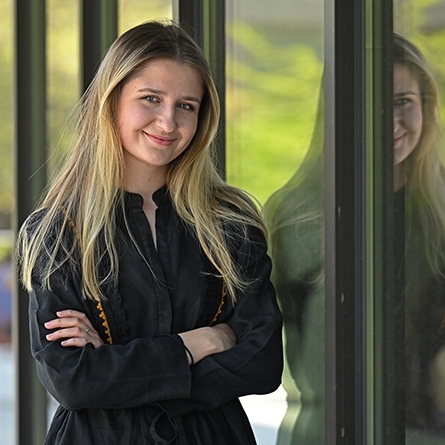 Olha Vasyliv '23 has won a $10,000 Projects for Peace grant to promote peace through education and community building this summer. She will use the money to run two-week therapeutic day camps in the Ukrainian capital of Kyiv and Austrian capital of Vienna for refugee students affected by the war that began when Russia invaded Ukraine in February 2022.
"I have a clearer vision of what peace is because I know what war is," said Vasyliv, who is from Kyiv and whose parents and 9-year-old brother live there. Her project proposal is titled "Peace of mind and peace on land: education for Ukrainian refugee children."
Projects for Peace, founded in 2007 by Kathryn W. Davis and now housed at Middlebury College in Vermont, "encourages young adults to develop innovative, community-centered and scalable responses to the world's most pressing issues," according to Middlebury's website. One hundred or more students from partner schools receive a $10,000 grant each year.
Vasyliv's labor of love has been long in the making. Earlier this year, she won a different grant, from Conn's Center for the Critical Study of Race and Ethnicity (CCSRE), that enabled her to purchase art therapy supplies for her alma mater European Collegium, a K-12 school in Kyiv where her brother is enrolled and her mother is the principal.
According to her winning proposal, Vasyliv plans to implement an age-sensitive curriculum in existing summer programs at both locations to address the educational goals of each group, while acknowledging the ongoing need for psychological support from counseling staff on site.
The camp in Kyiv will take place in June on European Collegium's campus and will host 50 to 70 primary and middle school students.
"We'll be promoting stress coping techniques through art therapy with a professional team of psychologists who will support the students with the art therapy supplies that I was able to provide to them using the CCSRE grant," Vasyliv said.
In July, Vasyliv will move to European Collegium's center in Vienna to help prepare 30 to 50 high school students for careers in peacemaking. Various speakers will share information about opportunities in Ukraine and international relations positions that will help Ukraine acquire humanitarian and military aid.
"This is a very critical point for students of an age between 14 and 16 to understand that their career trajectory can take this path, this direction," Vasyliv said. "And it will be helpful not only for them, because there are so many opportunities to help Ukraine now, but also it will be their contribution to the society they're coming from."
Vasyliv, who said she has wrestled with guilt for being more than 4,500 miles from home for most of the year, is hopeful the camps will be healing for her, as well. She said, "All I can do is invest my knowledge, my time and my money from here. It's not about donating. It's more about being intentional about what you're doing."
When Vasyliv received the campus-wide email listing grant opportunities, Projects for Peace immediately jumped out at her. The peace theme, along with details about projects by other Conn alumni who won the grant in past years, inspired Vasyliv.
"I wanted to connect and to unite different generations of Ukrainian students under the umbrella of education and show them career as well as academic opportunities in the peacemaking world," she said.
In an effort to spread peace further, Vasyliv will share her completed curriculum of lectures, workshops and reflections with the largest Ukrainian educational NGO, Osvitoria, to be distributed among local schools and refugee centers abroad.