Hamilton Highlights Grantee Adam Valencia '22
This article originally appeared in the Hamilton College newsroom under the title "Valencia '22 Awarded $10,000 Project for Peace grant."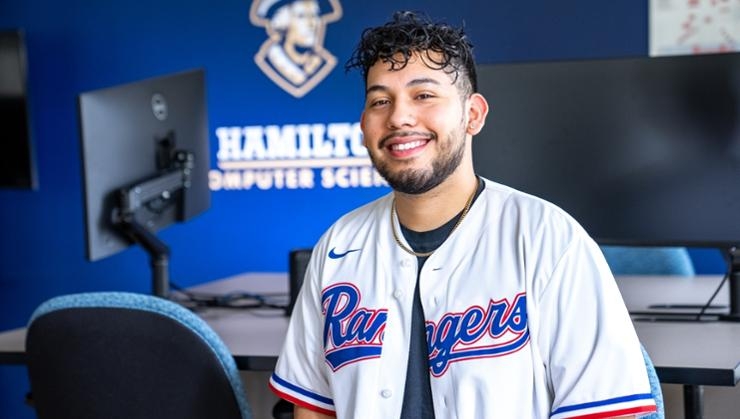 Computer science major Adam Valencia '22 was awarded a $10,000 Projects for Peace grant, which he'll use this summer to address inequalities in the technology industry. The program, hosted by Middlebury College's Center for Community Engagement, was established to encourage young adults to develop their own creative and community-centered responses to the world's most pressing issues.
Valencia aims to create "a program by a marginalized technologist for marginalized technologists," by utilizing a mix of technical workshops focused on teaching the Python coding language and presentations about how tech industries underserve marginalized communities.
This concept is especially impactful to Valencia because of his own experiences. "I am only one of many students across the nation who feel alienated in this very homogenous field," he said, "but at Hamilton, I had a space to determine what I wanted to pursue … and so, I asked myself, how could I pay this forward?"
Valencia's quest to bring resources to the marginalized members of the computer science industry began with Visiting Assistant Professor of Anthropology Chenyu Wang, whom he describes as his "guiding star." Through her coursework, he was given a foundation that grounded and shaped his academic experience. As a student, he pursued such opportunities as participating in a Research Experience for Undergraduates at the University of Texas at Dallas and obtaining a full-time software engineering position at DoorDash post-graduation.
"Chenyu instills in me that there is always work to be done, and I can be the one to start trying to solve those problems," he said. "Every class, she pushes the boundary of my understanding of the educational landscape … and I continue taking classes with her because of that."
During his time at Hamilton, Valencia participated in La Vanguardia and ROOTS Student of Color in STEM. He joined CODE2040 in his junior summer, a program dedicated to "taking on the work of remaking the [tech] industry to be equitable and inclusive." In each of his activities, Valencia made sure to not only follow the passion he had for computer science and engineering, but to do so in a way that would help others.
As he prepares to take on Project for Peace, Valencia makes his intentions quite clear. In a mix of pride for his own journey and the wish for others to experience the same, he seeks to take steps toward progress. "If I could motivate students to address the things they have the most passion for," he said, "then it is a right step in making technology equitable and meaningful."