Projects for Peace Alumni Awarded Middlebury College Alumni Achievement Award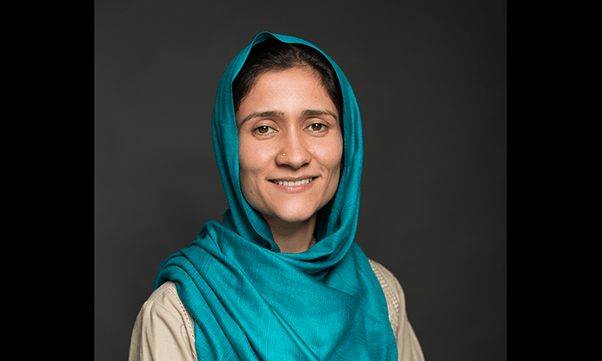 Shabana Basij-Rasikh was busy in 2008, a time when she was still an undergraduate student at Middlebury College, but still managed to conceive and execute life-changing programs. For one, she spent the summer at home in Afghanistan focused on carrying out her Davis Project for Peace, entitled "Giving Afghan People Access to Clean Water." With support from various groups and communities in addition to the funding from Projects for Peace, she was able to dig nine wells in and around Kabul in hopes of providing clean drinking water to those living nearby. Her inspiration for the project came from her own experiences growing up in Afghanistan, where "a main cause of illness is lack of clean drinking water," as she wrote in her project proposal. She went on to write that she, alongside her brother and sister, "had to carry buckets of clean water to my home from far away," and so her work grew out of a hope to make that work unnecessary for the other children of Afghanistan. 
For most people, that would be quite enough to fill up a year, but not Shabana. Alongside her Project for Peace, she also undertook the mission of establishing a school for girls in Kabul. Education for Afghan girls was, and remains, a personal matter for Shabana, who wrote in her proposal that when she was six, "education became 'illegal' for girls in Afghanistan under the Taliban regime. [Her] parents risked sending [her] and [her] sisters to 'secret school'—if the Taliban had known, they would have punished or killed the teacher, the students and their families." She goes on to note that she "dressed as a boy" for "the next five years" to attend school, and so her foundation of the institution now known as the School of Leadership Afghanistan (SOLA) has roots in the dream of sparing other young girls from that experience. 
It is for this spirit and the momentous work that Shabana has continued in the years since her busy 2008 that motivated Middlebury College to award her with a Young Alumni Achievement Award at the 2021 Middlebury College Reunion. Shabana has only continued to press onward in pursuit of the underlying hopes and passions that motivated her earlier work. She currently serves as president of SOLA, which, according to the Middlebury College write-up about her award, "enrolls nearly 100 students in the pre–6th grade, middle school, and high school programs." In addition to her SOLA work, the years since her Project for Peace have seen her among other accomplishments complete an MA in Public Policy at Oxford University, become a global ambassador for Girl Rising, and in 2018 she was awarded the Malalai Medal, an Afghani national honor of the highest degree. 
In just these early years of her professional career, Shabana has embodied every facet of Kathryn Wasserman Davis' words at the core of Projects for Peace: "There will always be conflict…But I'll remind you that love, kindness, and support are also part of human nature. My challenge to you is to bring about a mindset of preparing for peace instead of preparing for war." Davis Projects for Peace congratulates Shabana on her well-deserved award, and no doubt joins the world in expressing excitement at what she may accomplish next.