Abenaki Language School History
The Abenaki (ah-ben-ah-key) Language School started in the Summer of 2020 due to collaboration between Laurie Patton, the Study Abroad Office, Jesse Bruchac, Joseph Bruchac, and other Indigenous Abenaki collaborators.
The idea of the school was spurred by President Laurie Patton's interest in better connecting Middlebury College with the Abenaki people. She began working with Jesse and Joseph Bruchac on the school following their performance of the Land Acknowledgement, as a traditional Abenaki prayer, at Middlebury's commencement in 2019.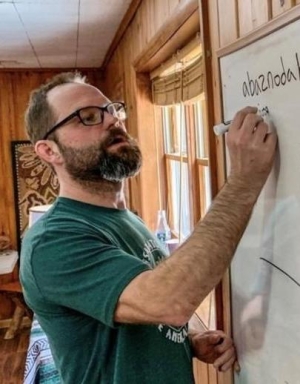 Jesse Bruchac, from the Nulhegan Band of the Coosuk Abenaki Nation, is the Director of the Abenaki Language School.  He is a traditional storyteller and musician and the co-director of his family-run education center Ndakinna, where he teaches Native American Life Ways, Martial Arts, and the Abenaki language. His instruction centers on language revitalization and fostering a cultural environment. 
The goal of the School is to foster not only language learning but language keeping. The creation of the Abenaki Language School also reflects Middlebury's institutional legitimization of the Abenaki language as one of equal importance to the other world languages, such as French and Spanish.
Attendees of the Abenaki Language School have grown over the years. The first summer saw 20 students attending, rising to 40 this past year. One of the most notable aspects of the School is its geographical location: on Abenaki land. Unlike any other language at Middlebury, the Abenaki language is taught on the ground it came from. The curriculum emphasizes the outdoors due to the role of the outside world in Native American mythology and culture. 
All Vermonters of Abenaki descent receive free tuition from President Laurie Patton's discretionary funds. These students will hopefully have their tuition covered by donors or the Vermont State Government. This is part of Middlebury Language School's commitment to sustainable language revitalization and education.