Historical Acknowledgment: a Reading/Viewing/Listening List on Indigenous Dispossession and Middlebury College
During Spring 2021, I compiled anthropological and cultural resources that can be used to help students engage with the history of colonization, indigenous dispossession, and attempted erasures. Topics I researched include, but are not limited to, Vermont's eugenics program, traditional knowledges, and community structures. I also connected with Gedakina and had the opportunity to form relationships and attend an event with indigenous scholars in the northeast and broader US. Furthermore, I applied the research as context for another research project I was working on with the Sustainability Solutions Lab, in which my partner Tina and I designed a heritage permaculture garden with traditional Abenaki knowledge.
Sustainability Solutions Lab Heritage Garden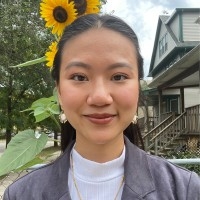 Theresa Nguyen '21
My name is Theresa Nguyen, and I was born and raised in the city of Chicago. My parents were Southern Vietnamese refugees, and growing up in a household of 17 people, I was always engaged in discourse on social change, economic equity, and political representation. I explored my interests in these areas through various community projects in Chicago. Coming to Middlebury, I decided to study international politics and economics to better understand global issues and trends, such as populism. This summer, I will intern with Congressman Mike Quigley, and I hope to gain the skills and experiences needed to pursue a career in international law.