Histories of BIPOC Athletes at Middlebury College
Athletics has been a big part of the institution's history for more than a century, particularly its relationship to wealth and white privilege – as cultures and structures. Since that time, students of color have had marginalized/marginalizing experiences in college athletics. This project records histories and experiences of the challenges BIPOC athletes have faced.
 
Student Athletes of Color (SAOC)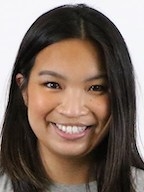 Ellie Thompson '22
Pronouns: she/her/hers
Ellie is a Senior International Politics & Economics major with a Chinese minor, with a heavily skewed interest towards the political sciences and social justice. Born in Guangxi, China and raised in Minnesota—land of 10,000 lakes! —she has always been curious about everything and is always asking questions. Here, at Middlebury, Ellie has been a part of Oratory Now, Student Government Association, Middlebury Athletics, and the Student-Athletes of Color (SAOC) organization. Her time as a Varsity swimmer and President of SAOC led to her curiosity and want to uncover the history of student-athletes who identify as a person of color (POC) at the College. 
Jordyn Johnson '23
Jordyn is a Junior majoring in Political Science from Hoover, Alabama. She's an outfielder on the softball team and Treasurer of SAOC. 
Join the project
Ellie and Jordyn have conducted over 40 alumni athletes of color interviews so far. If you would like to be interviewed, email twilight@middlebury.edu. 
Both Ellie and Jordyn have participated in the Leaning Into Discomfort series with Middlebury Athletics, sponsored by the athletics Diversity, Equity and Inclusion Committee. The series aims to have uncomfortable conversations surrounding topics such as race and identity, in an effort to normalize discussing some of these taboo topics as well as learn and grow stronger together as a community.
Watch the Leaning into Discomfort series