The Lives of Disabled Students at Middlebury – Past to Present
In this project, Middlebury student Mary Moore seeks to collect a series of oral histories from Middlebury alumni who identified as disabled during their time at Middlebury (or, who later in life describe themselves as disabled during their time at Middlebury).  
This project is an extension of a paper written for William Hart's 2021 J-term class in which Moore explored the history of students with disabilities at Middlebury since the passage of the ADA.  Through interviews with staff, and copious amounts of research in The Middlebury Campus archives, Moore determined that there was more research to be had in the realm of student's experiences with disabilities throughout Middlebury's past.  Moore is interested in hearing from a variety of alumni, even if you decide not to move forward with a formal oral history interview.
Contribute to the project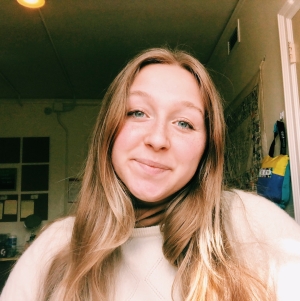 Mary Moore 2022.5 is a Middlebury super senior feb from St. Louis, Missouri.  Aside from being a Twilight Fellow, Mary is a History and English double major and a 2021-2022 recipient of the Kellogg Fellowship.  Across academic disciplines Mary is drawn to disability justice, medical ethics, sexual violence, and histories of oppression.  In Fall of 2022 Mary will complete her English thesis on the works of Octavia Butler, and Mary's history thesis on the intersection of eugenics and the institutionalization of women in Missouri asylums was completed in February of 2022. On campus, when Mary isn't pursuing her academic interests, she can be found coaching public speaking with Oratory Now as Head Coach and operating the MiddSafe hotline as a Vermont State certified rape crisis worker.  In her free time, Mary enjoys reading, playing the piano, selling books at The Novel Neighbor bookstore in St. Louis, writing at www.booksinherhead.com, and going on runs in the beautiful Vermont countryside.