Naming Middlebury: Memory, Power, and Place
Place names are a part of our cultural landscape. Thus, the names used by Middlebury across its campus are meaningful and impact the culture of diversity and inclusion, which is highly valued by the college and embedded in our mission statement. To this end, as a community, we need to reevaluate the histories memorialized and celebrated on campus and their meanings. This includes a focus on the renaming of Mead Chapel and Mead's connection to eugenics. 
Comprehensive list of named buildings of Middlebury
This historical interrogation explores the naming of buildings and monuments on campus and uncovers the histories of the people after whom they are named. To this end, as a community, we shall reevaluate the histories that are memorialized and celebrated on campus and the meanings they carry.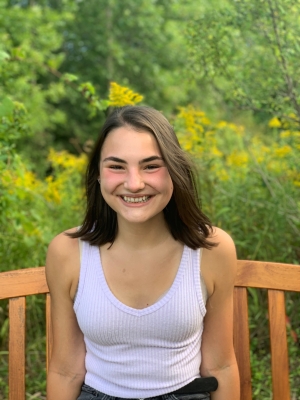 Paige Osgood '23 
I am a senior anthropology and Spanish double major from Detroit, Michigan. Outside the Twilight Project, I work as a medical anthropology research assistant for Professor Kristin Bright on translating and coding interviews with migrant farmworkers about access to dental health care. I also am a project coordinator with the Body Online project, an anthropology research lab dedicated to publicly engaged studies of medicine and health. 
Mead Memorial Chapel Renaming
After the Vermont State Legislature's public apology for its past eugenics policies and violent actions, the College began to consider the role of Governor John A. Mead, Class of 1864, in promoting eugenics in Vermont. Paige presented a proposal to the Senior Leadership Group to rename campus landmarks in summer 2021. The College announced it would remove Mead's name from the Chapel in September 2021. Read the College announcement on Renaming Mead Memorial Chapel.