Campus Community Invited to Participate in Planning for New Student Center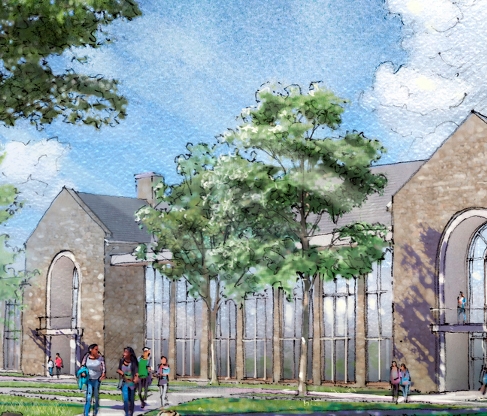 The following message was sent in an email to the Middlebury campus community on April 25.
Dear Middlebury College Community,
We are writing to invite you to participate in an exciting opportunity as we plan for development of a new student center at Middlebury College.
On Wednesday and Thursday, April 27 and 28, we will host a two-day charrette to solicit ideas and feedback about programming and priorities for the space, which will be located at the current Proctor Dining Hall site on the south side of campus. We envision this space as a vibrant, active living room for the Middlebury College campus, where every student, faculty, and staff member feels a sense of belonging.
A charrette is an organized and structured way to collect input and feedback on a particular issue in a large community with various stakeholders. We are excited to utilize this format of engagement to hear your thoughts about programming and the essential elements of a student center on campus. We welcome you to view these draft renderings of the student center ahead of time. (You may download the file from the link provided).
During the charrette, members of the College community are invited to share ideas, needs, and visions with representatives from Voith and Mactavish (VMA), the architectural firm conducting a feasibility study for the student center. Students actively engaged in the Living Building Challenge sustainable design standard will also participate in the charrette process. This process is critical to our efforts to design a student center that meets the needs of the College community, to create relevant programming, and to identify fundraising opportunities for this exciting project.
We will host open sessions throughout the two days for those who wish to participate. Following are dates, times, and locations for each meeting:
Open to All:
Wednesday, April 27: 2 p.m., Wilson Hall
Wednesday, April 27, 3 p.m., Wilson Hall
Thursday, April 28, 10 a.m., Wilson Hall
Thursday, April 28, 11 a.m., Wilson Hall
Open to Students: 
Wednesday, April 27, 5 to 7 p.m., Proctor Dining Hall 
We look forward to seeing you there.
Sincerely,
David Provost
Executive Vice President for Finance and Administration
Smita Ruzicka
Vice President for Student Affairs