Phi Beta Kappa Elects 54 Students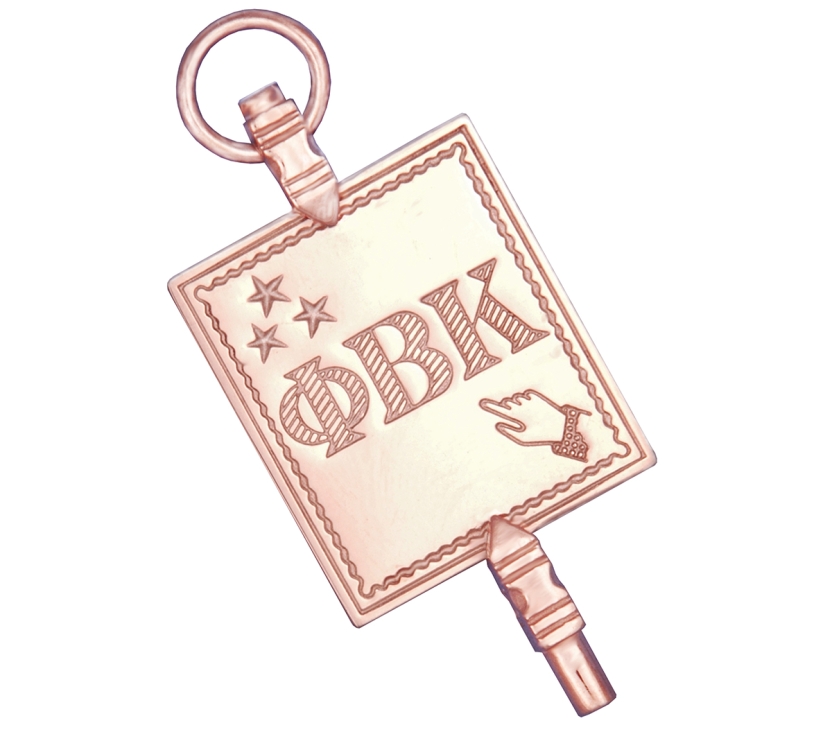 MIDDLEBURY, Vt. – The Middlebury chapter of Phi Beta Kappa, the country's oldest honor society for the liberal arts, founded in 1776, has elected 54 students to its membership. The Phi Beta Kappa prize, given to the graduating senior(s) "whose scholarly or artistic accomplishment and breadth, and contribution to the intellectual life of the community, best exemplify the society's regard for intellectual excellence," was awarded this year to Mykhailo Poklad.
Each year the Middlebury chapter elects up to 10 percent of the senior class to Phi Beta Kappa membership. Two percent of the class is elected in August, on the basis of six semesters' work, and up to an additional 8 percent is elected in May, on the basis of work completed over eight semesters.
One of the traditional symbols most often identified with Phi Beta Kappa is the key, which the society developed in its early days. Middlebury owns one of the oldest Phi Beta Kappa keys still in existence—that of Middlebury's first president, Jeremiah Atwater.
The newly elected 2021-2022 members include:
Kaja Aagaard 
Victoria Seema Albert 
Rebecca Caitlin Amen 
Christina Margret Badalamenti 
Eloise Berdahl-Baldwin 
Elijah Benjamin Biletch 
Hugo Böcker 
Tyler J Capello
Sophie Chalfin-Jacobs
Katherine Grace Concannon 
Molly Elizabeth French Conover 
Elizabeth Braxton Dameron 
Ideal Dowling 
India Young Drummond 
Lucy Sims Emptage 
Jack Elliot English 
Vincent Sylvain Falardeau 
Maya Belle Fray-Witzer 
Kathlyn Faye Gehl 
Nathaniel Scott Gehrke 
Rhys G Glennon 
Jay Vanderbilt Hamel 
Catherine Han 
Grace Hamilton Hering 
Jaden Veronica Hill 
Rasika Ragini Iyer 
Priya Kaur 
Riley Elizabeth Kinum 
Elsa K. Korpi 
Yumeng Liu 
Mariia Makutonina 
G. Samuel Marshall 
Nicholas R Matthews 
Wynn Elizabeth McClenahan 
Catherine Hayden McLaughlin 
Eva Morgan 
Liam Dennis O'Brien 
Kendal Anne Pittman 
Jennifer Leah Pushner 
Cynthia Da-Silva Ramos 
Olivia Rieur 
Maia June Sauer 
Ethan Lennard Saxenian 
Corey Jonathan Scheinfeld 
Yuka Tatsumi 
Gwendolyn Guion Taylor 
Emma Boland White 
Sergiu Ivy Ilinka Valentine White 
Matthew J. Wilson 
Clara Masland Wolcott 
Ruoheng Wu 
Ege Berent Yuzbas 
Jiujiu Zhou 
Robert Zhu
Twelve students were inducted into Phi Beta Kappa in October 2021.