Brahim Chakrani to Begin First Summer Session in New Role as Director of Middlebury Arabic School
MIDDLEBURY, Vt. – Middlebury has named Brahim Chakrani as the new director of its Arabic Language School, beginning this summer. He succeeds Mahmoud Abdalla, who had led the program since 2003.
The Arabic School is one of 13 Middlebury Language Schools, known internationally for their full immersion approach to language teaching.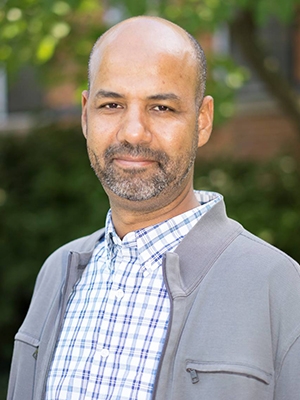 Chakrani is an associate professor of Arabic studies and coordinator of the Arabic Program at Michigan State University. He served as the president of the American Association of Teachers of Arabic (AATA) from 2018 to 2020. Chakrani received his PhD in linguistics from the University of Illinois at Urbana-Champaign. 
The Arabic School, founded in 1982, includes an eight-week summer immersion program as well as a graduate program. This summer, the Arabic School will begin its session on June 24 and will be located on the campus of Bennington College in Bennington, Vermont, along with the Italian and Portuguese Schools.
"We are so fortunate to have Brahim in his new role at the Language Schools this summer,"  said Steve Snyder, dean of Language Schools. "The Arabic School is rich in tradition and culture, and we look forward to working with him to provide our students a fulfilling session."
"I am excited to lead the Middlebury Arabic School, whose faculty bring robust experiences and diverse backgrounds to enrich the student learning experience, fulfilling Middlebury's mission to provide world-class education in languages and cultures," said Professor Chakrani.
More information about the Middlebury Language Schools is available online or by contacting the Language Schools at 802-443-5510 or languages@middlebury.edu.