Middlebury Language Schools to Operate in Person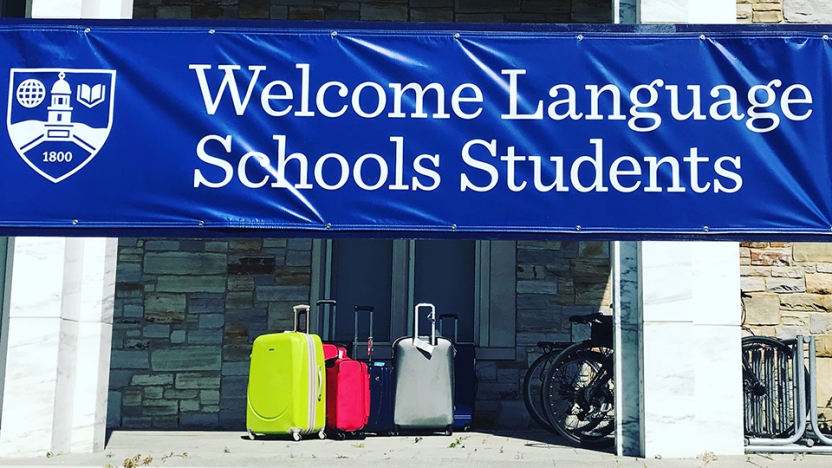 MIDDLEBURY, Vt. — June 24 marks the first student arrival day for the Middlebury Language Schools, known internationally for their full immersion approach to language teaching. This summer the Language Schools will welcome over 1,500 students and 300 faculty and staff to the campuses of Middlebury College, Bennington College, and the Middlebury Institute of International Studies at Monterey to study Abenaki, Arabic, Chinese, English, French, German, Hebrew, Italian, Japanese, Korean, Portuguese, Russian, and Spanish. The English Language School will launch an eight-week program in Monterey, and the School of Korean will start a master's in Korean. 
All Language Schools will be back in person after a fully remote summer in 2020 and partially remote summer in 2021. In addition to their in-person programs, the Kathryn Wasserman Davis School of Russian and the School of Hebrew will operate a few programs online, including a Russian four-week advanced course and a Hebrew six-week online program. Select graduate students in the master's in Spanish and master's in French will also return to Argentina and France, after two summers of not having the option to go abroad. In-person students are required to be vaccinated with a primary series and booster.
"We are grateful to be able to have all schools in person again," remarked Steve Snyder, dean of Language Schools. "This will be a special summer working with colleagues at Bennington and Monterey."
Language Schools students will live, learn, and interact in the language they have come to study and sign the Language Pledge®, a formal commitment designed by Middlebury to speak the language of study for the entire summer session. The Language Schools will also host virtual events that are open to alumni and the public.
Since 1915, more than 50,000 students from all walks of life—including more than 12,000 advanced degree holders—have attended one or more of the Language Schools. 
Students will bring a wide range of experiences with them this summer. A student in the Arabic School is a documentary filmmaker and journalist working on a CNN documentary series in the Middle East, while a student enrolled in the School of Korean has been working in public health and leading teams to set up COVID-19 vaccination clinics. A mother and her daughter are enrolled in the Betty Ashbury Jones MA '86 School of French. A student in the German School is an author working on several projects chronicling the lives of refugees in Germany, and a student in the Kathryn Wasserman Davis School of Russian is researching indigenous communities of the Russian Federation. 
Virtual events open to the public can be found on the event list, which will continue to be updated throughout the summer. More information about the Middlebury Language Schools can be found online or by contacting the Language Schools at 802-443-5510.