New England Review Features New Writing from Lebanon
MIDDLEBURY, Vt. - New England Review has released its summer issue, NER 43.2. Readers will find plenty of places to go in the new issue and, like true travelers, will find expectations upended and experiences to shift their ways of seeing. 
This summer's international feature, "Polyglot and Multinational: Lebanese Writers in Beirut and Beyond," guest edited by National Book Award–winning poet and translator Marilyn Hacker, gathers the work of 14 Lebanese writers and their translators. Some are current residents of Lebanon, others were born there but have since left, and some are Lebanese and Palestinian refugees living in, or who grew up in, Lebanon. Cover art is by Lebanese-American photographer Manal Abu-Shaheen.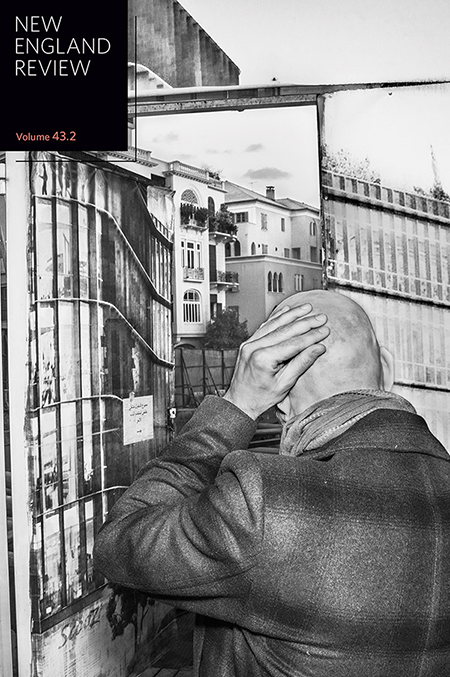 The roster of translated writers includes Taghrid Abdelal (trans. Fady Joudah), Inaya Jaber (trans. Karen McNeil and Miled Faiza), Fouad Mohammed Fouad (trans. Norbert Hirschhorn), and Hilal Chouman (trans. Suneela Mubayi). Lebanese writers working in English include Zeina Hashem Beck, lisa luxx, Yousif M. Qasmiyeh, Rima Rantisi, and Omar Sabbagh. A full listing of contributors and Hacker's introduction are available online.
In addition to the international feature, the summer issue includes new stories by Nandini Dhar, Roy Kesey, A. E. Kulze, David Ryan, Christine Sneed, and Kosiso Ugwueze. Featured poets are Victoria Chang, Tiana Clark, Steven Duong, Gillian Osborne, Analicia Sotelo, Corey Van Landingham—and many others. Essays by Maud Casey and Sarah Fawn Montgomery turn new lenses on #MeToo and climate doom, while Ben Miller and Marianne Boruch look at the origins of artistic experience.
The issue is available in ebook or print editions, and samples can be found on the NER website (www.nereview.com). Subscriptions and single copies are available online at www.nereview.com/subscribe. Reviewers can obtain copies by sending a request to nereview@middlebury.edu.
Published by Middlebury College, New England Review is a nationally recognized literary journal that cultivates artistic excellence and innovation in contemporary writing and engages readers deeply in the literary arts through its quarterly publication, dynamic web presence, podcast, and reading series.