Bread Loaf School of English Awards 75 Master's Degrees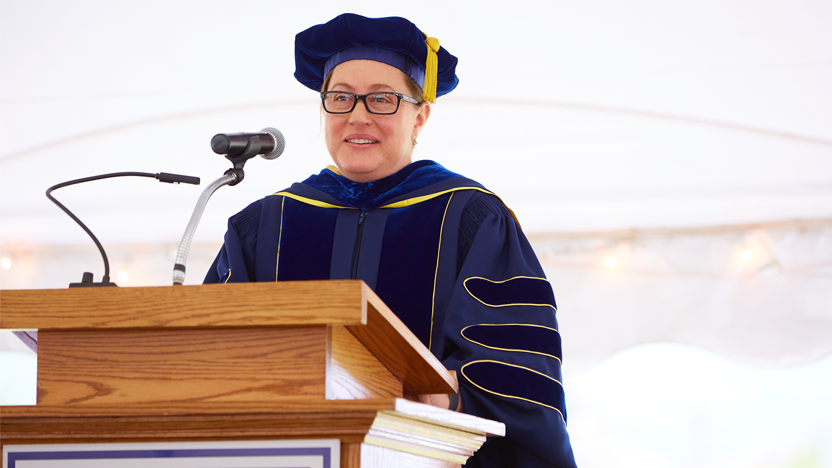 RIPTON, Vt. – The Middlebury Bread Loaf School of English (BLSE)—an intensive summer master's program for teachers and other professionals—conferred 75 master's degrees at Commencement ceremonies marking the conclusion of its 103rd session. Of the graduates, 35 studied at the program's Vermont campus for their final summer, 24 at Lincoln College at Oxford University, and nine at the BLSE's new California campus at the Middlebury Institute of International Studies at Monterey. Seven finished their studies by completing remote independent research projects. Since the program was virtual in 2020 and 2021, these graduations were the first to take place in person since 2019.
At BLSE's original mountain campus in Ripton, Vermont, the Commencement ceremony and celebrations for the Class of 2022 took place in the afternoon on Saturday, August 13. Bread Loaf School of English Dean Emily Bartels gave opening remarks, thanking staff, faculty, and students for working indefatigably this year to create an extraordinary experience in extraordinary times. Graduate study, she explained, is a process of defamiliarization. We study texts to find not ourselves but others, to reconsider who we are individually and collectively. Bartels was moved by the graduating class's capacity to catalyze conversations, productively questioning themselves while engaging with others—embracing defamiliarization and making a challenging summer a success.
Elianna Kan, student president of the Class of 2022 in Vermont, praised the unique opportunity that the BLSE presents by reminding students of the connection between humans and the environment: for six weeks each summer, students are fully immersed in nature just as they are in literature.
Bread Loaf professor Kate Marshall, who is also an associate professor of English at Notre Dame, gave the Commencement address. Marshall is the author of the award-winning Corridor: Media Architectures in American Fiction (2013) and was the 2016–2017 Founders' Fellow at the National Humanities Center. She also coedits the Post45 book series at Stanford University Press.
In her address, Marshall enlisted the use of artificial intelligence (AI), a topic of one of her Bread Loaf courses, to ask the audience to explore the provocative prediction that writing as we know it may become obsolete in the future. Marshall shared versions of custom AI-generated graduation speeches and sci-fi descriptions of Bread Loaf. Marshall suggested that we may require "typewriters, letterpress cabins, and readers of novels who can help us understand what new definitions of intelligence will mean for our world" and concluded by asking Bread Loaf's graduates to walk the "new, old path" that is created when we take something old and add to it our work and ingenuity. "I trust you," she ended, "with what's to come."
Middlebury President Laurie Patton then introduced the conferring of degrees, asking what it means to learn in a place and time when democracy is at risk, and what it takes to heal and to imagine a new democracy. Patton read the John Daniel poem "Dependence Day," which proposes that interdependence is necessary for creation and democracy to occur. She urged Bread Loaf's graduates to understand the world in this way: to find literature of interdependence and to find relationships when it seems there are none.
Every year, students select faculty to be master's hooders—the individuals who lift a cloth over a student's head in recognition of their earning a graduate degree at Commencement. This year's hooders were Elaine Lathrop, coordinator of the Vermont campus program with 40 years of service to the BLSE, and Professor Robert Stepto, a professor emeritus of English, African American studies, and American studies at Yale University, with an equally impressive 33 years of teaching at the BLSE.
BLSE associate director Lyndon Dominique left graduates with hopes that they think of their years at Bread Loaf as instrumental in shaping the learning communities and professions to which they return.
At the California campus, participants in Bread Loaf's first Summer Institute in the Global Humanities held a celebration on Saturday, August 6, to honor graduating seniors. And Bread Loaf's Oxford campus held its Commencement exercises the same day at Lincoln College Chapel in a ceremony that was livestreamed for family and friends who could not make the trip to the United Kingdom.
Oxford graduates selected Bread Loaf professor Stephen Berenson as their Commencement speaker. Berenson is founding director of the Brown/Trinity MFA Programs in Acting and Directing, professor of the practice at Brown University, and resident acting company member at the Trinity Repertory Company.
In his remarks, Berenson noted the achievement of graduates who reached this pinnacle in the midst of global pandemic stress. Katie Jo Parrott, Oxford Class of 2022 president, gave a speech in which she related the story of the one teacher and the one book that changed the course of her life.
On Thursday, August 11, a special Commencement ceremony on the Ripton campus took place for those who had graduated during the summers of 2020 and 2021, when the program did not run in person. Dean Bartels welcomed this group of Bread Loaf graduates who embraced a new, remote way of learning and brought their own voices to it. Dominique acknowledged the pilgrimage these graduates had made to reconnect with a place that holds deep personal meaning and a space that indeed holds its significance through the presence of Bread Loafers.
The graduates then gave their own remarks, reflecting on what the place of Bread Loaf has meant to them individually.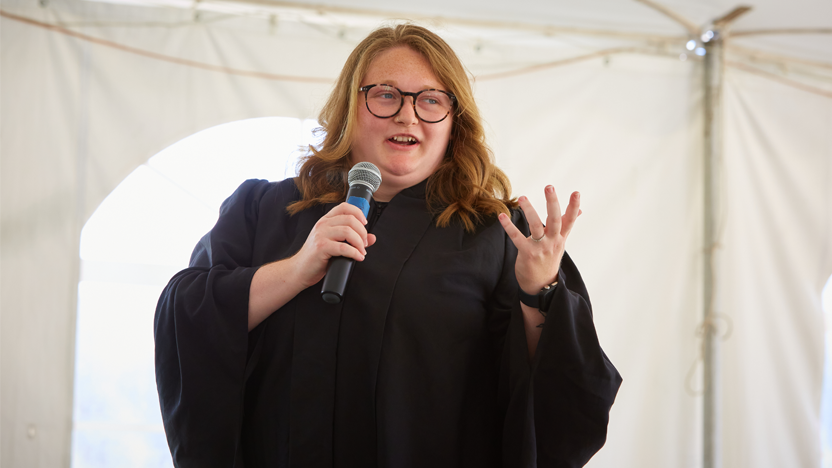 Dominique offered a closing encouragement to graduates to remember the importance of the kind of holistic development that Bread Loaf has cultivated for more than 100 years through academic rigor, play, and mindfulness in a bucolic environment. 
The Bread Loaf School of English, established in 1920, is one of Middlebury's summer residential graduate programs, offering courses in literature and the related fields of literacy and pedagogy, creative writing, and theater arts. Students, mostly K–12 English or language arts teachers, come from across the United States and beyond for one or more summers of intensive continuing education. Students may also elect to pursue an MA or MLitt degree in English. Faculty members come from eminent institutions in the United States and United Kingdom to teach and learn with the student body at sites in California, England, and Vermont.