Middlebury to Transfer Ownership of Research Vessel to Bigelow Laboratory for Ocean Sciences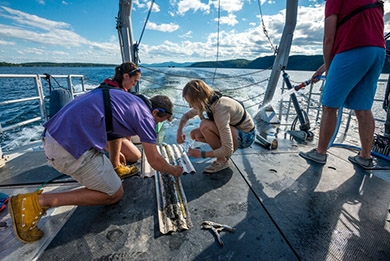 MIDDLEBURY, Vt. - Middlebury College will transfer ownership of the R/V David Folger, a research vessel used by faculty and staff on Lake Champlain, to Bigelow Laboratory for Ocean Sciences on October 1. The transfer will happen at no cost to Bigelow Laboratory—an independent, nonprofit research institute in East Boothbay, Maine. 
Middlebury faculty and administrators carefully considered the future of the Folger over the last several years. They found that use of the boat and its specialized equipment does not align with research interests and needs of current faculty and students at this time. The College acquired the Folger in 2012 and the faculty who used it regularly for research have retired. 
"The Folger will enable us to expand access to hands-on educational experiences with cutting-edge science and will better support our research in the Gulf of Maine," said Ben Twining, a senior research scientist at Bigelow Laboratory and the Henry L. and Grace Doherty Vice President for Education.
Rick Bunt, associate dean of the sciences at Middlebury, said, "Bigelow Laboratory is a wonderful new home for the Folger." Bunt is also a professor of chemistry and biochemistry who helped organize the Folger's transfer of ownership.
As part of the transition, Middlebury is focused on meeting the current research needs of biology and neuroscience faculty and students, Bunt explained. This includes enhancing resources for the work of Eric Moody, assistant professor of biology, and Clint Cave, assistant professor of neuroscience. Moody and Cave and their students will engage in research in an aquatic ecology lab in McCardell Bicentennial Hall that will be operational later in the upcoming academic year following some minor renovations. Fish tanks that Middlebury received through a collaboration with Dartmouth will house zebra fish for Cave's and others' research, and killifish for Moody's research.
Bigelow Laboratory welcomes students from all colleges and universities in the United States, including those from Middlebury, to apply to their programs, Twining said. 
"We'd like to grow our relationship with Middlebury and encourage Middlebury students who are interested in ocean research to consider participating in our unique, hands-on educational programs," he said. "By giving the Folger to Bigelow Laboratory, Middlebury is demonstrating its commitment to advancing educational excellence and turning an underutilized resource into a research and education platform with a long-term impact that extends far beyond its campus."
 
Bigelow Laboratory's educational initiatives for college students include a 14-week fall semester in-residence program and summer internships funded through the National Science Foundation's Research Experiences for Undergraduates program. Bigelow Laboratory also offers programs for high school students and teachers, graduate students, postdoctoral scientists, and professionals in a wide variety of scientific fields.
More information about the Bigelow Laboratory for Ocean Sciences is available on the organization's website.
Media Contacts:
Middlebury College
Sarah Ray
Director of Media Relations
E: ray@middlebury.edu
O: 802-443-5794
M: 802-989-3403
Middlebury.edu
Middlebury, Vermont 05753
Bigelow Laboratory for Ocean Sciences
Steven Profaizer 
Chief Communications Officer
E:  sprofaizer@bigelow.org
O:  207-315-2567 x103
Bigelow.org
East Boothbay, Maine