Kelson Foundation gift will support the future of Middlebury's Innovation Hub
Middlebury has received a gift of $5 million from the Kelson Foundation to support the future of the Innovation Hub, home to Middlebury's programs on creativity, innovation, and entrepreneurship.
The gift will provide support for programs and staff and enable the Hub to respond to the changing demographics and needs of today's students. The aim is to eliminate barriers and create more opportunities to explore creativity, take intellectual risks, and develop the skills students will need after graduation.
The gift honors Elizabeth Hackett Robinson '84, who founded the Programs on Creativity and Innovation in 2007 and, over the next 13 years, led the development and expansion of its offerings. Those programs and others focusing on internships, leadership and professional development, public speaking, social entrepreneurship, and global health are now known collectively as the Elizabeth Hackett Robinson '84 Innovation Hub.
"Liz helped us see the entrepreneurial, creative potential in our liberal arts setting," says Middlebury President Laurie Patton. "Because of her work, Middlebury is known for its creativity and for connecting an education in liberal arts and sciences with the world of start-ups and business. She contributed significantly to our ability to prepare students with the kinds of skills they need to succeed and make a difference after Middlebury, here and around the globe.
"We are incredibly grateful to the Kelson Foundation and to its president, Jake Moritz '11, for recognizing the importance of this work and its potential to affect the lives of even more Middlebury students."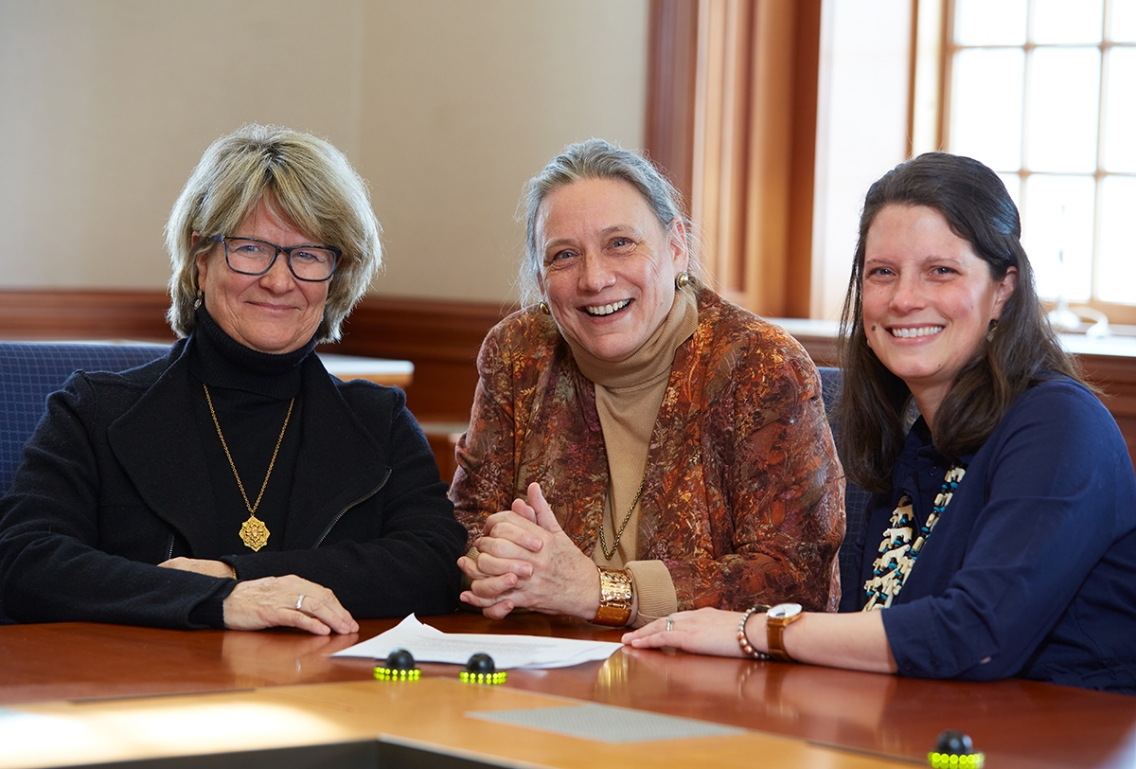 Moritz, a product manager at Outside Media, remembered Robinson as a transformational mentor.
"Liz created a space where students could do unexpected and unconventional projects that complemented our time in the classroom," he says. "These experiments became the foundation for ideas, collaborations, and companies formed by Middlebury students after graduation. I wanted to honor her and ensure that Middlebury continues to channel the creativity and innovative thinking of students just as she made that possible for me and my peers. I encourage anyone who had the chance to work with Liz or students in the innovation programs to support it in whatever way feels right."
Moritz says it's more essential than ever to help Middlebury graduates develop the curiosity, knowledge, resilience, and skills to engage the world successfully.
"Students at the Innovation Hub have to experiment, try, fail, rebuild, and share their ideas.  These are the real-world skills needed to thrive in, enjoy, and lead projects," Moritz said. 
More than half of Middlebury College students participate in a Hub program, which offers leadership opportunities, internships, grants, and coursework and supports academic projects and many other creative endeavors, according to director Heather Neuwirth Lovejoy '08.
"My goal is to remove barriers, so that all Middlebury students can explore creativity and innovation," Lovejoy says. "It's extraordinary that Jake, one of the first students Liz worked with, is continuing her legacy and helping ensure that every Middlebury student can do just that."
Many ideas fostered over the past 15 years have led to new businesses and exciting careers for participants. More than 30 businesses got their starts, for example, at an incubator through the College's decade-long partnership with the Vermont Center for Emerging Technologies (VCET).
While other schools had successful programs, Middlebury was one of the few liberal arts institutions that sought to institutionalize the teaching, encouragement, and support of innovation as an extension of classroom learning.
"In 2007, higher ed entrepreneurship, innovation education, and economic development were just getting started," VCET president and CEO David Bradbury says. "Middlebury was a pioneer."
Bradbury says VCET helps students start companies at six colleges in Vermont, but that Middlebury "is the best entrepreneurial campus in the state." The College, he says, "is an unexpected place of entrepreneurial energy."
All students can benefit from participating in these innovation programs, Patton notes.
"Jake's generous gift means more students will embrace creativity and learn from failure—supported, and this is key, by mentors. The Innovation Hub has shown that liberal arts and place-based experiential learning complement each other. I can't wait to see what our students do next."