Middlebury Celebrates Faculty and Staff Grant Recipients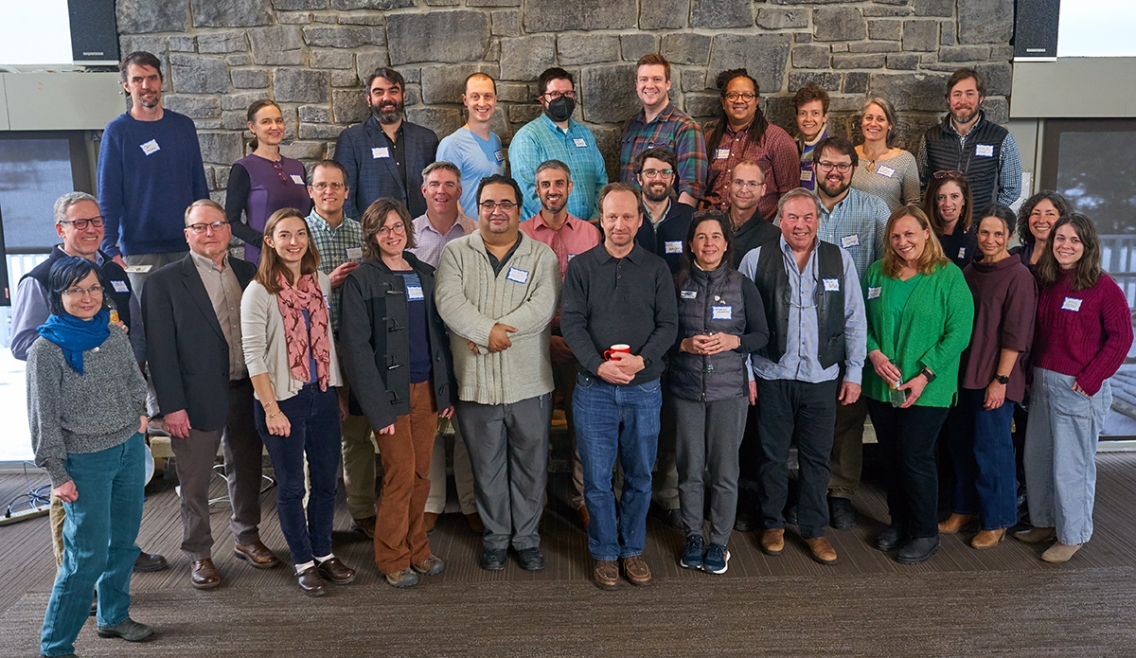 For the first time since the pandemic shut down in-person gatherings, faculty and staff recipients of approved grant and fellowship awards were honored at a reception at the Kirk Center on March 16.
Interim Vice President for Academic Affairs Jim Ralph, who hosted the event with the Office of the Provost, noted that since 2019 more than $12 million has been awarded to faculty and staff in support of research and creative scholarship.
More than 140 awards were received in 2020, 2021, and 2022, representing 28 Middlebury departments.
The full list of grant recipients over that time period includes:
Katherine R. Smith Abbott
Tara L. Affolter
Raquel Albarran
David N. Allen
William H. Amidon
Carolyn J. Anderson
Molly D. Anderson
Ata Anzali
Febe Y. Armanios
Jason D. Arndt
Merrill S. A. Baker-Medard
Emily C. Bartels
Rebecca A. Bennette
Lorraine L. Besser
Michole Biancosino
Erik Bleich
Priscilla S. Bremser
Kristin Bright
Pieter Broucke
Richard C. Bunt
Susan Burch
Tanya S. Byker
John M. Byrne
Samuel C. Byrne
Keegan F. Callanan
Clinton Cave
Ananya D. Christman
Robert G. Cluss
Kirsten K Coe
Catherine M. Combelles
Benjamin Cotts
Amanda J. Crocker
Jennifer Crodelle
Armelle Crouzieres-Ingenthron
Michael B. Dash
Darien J. Davis
Katharine DeLorenzo
Michael E. Durst
Erin Eggleston
Irina Feldman
Miguel Ferandez
James Fitzsimmons
Kemi D. Fuentes-George
Enrique Garcia
Eilat Glikman
Gloria Estela Gonzalez Zenteno
Anne L. Goodsell
Noah M. Graham
Amanda G. Gregg
Elaine Orozco Hammond
Chris Herdman
Paul Hess
Mario A. Higa
Joseph R. Holler
Jessica A. Holmes
Jeff T. Howarth
Allison Jacobel
Laurel Jenkins
Bertram N. Johnson
Rachael M. Joo
Matthew O. Kimble
Shelby Kimmel
Carolyn Kuebler
James A. Larrabee
Matthew C. Lawrence
Michael D. Linderman
Jessica E. L'Roe
John A. Maluccio
Thomas O. Manley
Marta Manrique-Gomez
Peter H. Matthews
Bettina U. Matthias
Tamar Mayer
Jamie K. McCallum
Michelle McCauley
Elsa Mendoza
Jason A. Merrill
Brett C. Millier
Jason S. Mittell
Robert W. Moeller
Eric Moody
Sujata Moorti
Jeffrey S. Munroe
Alexis Mychajliw
Caitlin M.K. Myers
Peter B. Nelson
Marybeth E. Nevins
Michael R. Newbury
Jennifer D. Ortegren
Mark R. Orten
Clarissa C. Parker
Greg Pask
Laurie Patton
Obie C. Porteous
Akhil Rao
Lindsay M. Repka
Andrea E. Robbett
Marcos J. Rohena-Madrazo
Michael D. Roy
Peter Crowley Ryan
Elizabeth Anne Sacheli
James Chase Sanchez
Erin E. Sassin
Daniel Scharstein
John R. Schmitt
Martin O. Seehuus
Shawna R. Shapiro
Stephen B. Snyder
Grace A. Spatafora
Mark D. Spritzer
Allison Stanger
Sarah S. Stroup
Jacob A. Tropp
Ioana M. Uricaru
AnGayle K. Vasiliou
Edward A. Vazquez
Betsy Vegso
William Vitek
Max M. Ward
Susan K. Watson
Marion Wells
David P. West Jr.
P. Frank Winkler
Richard Wolfson
Martha K. Woodruff
Catharine W. Wright
Amy T. Yuen
Zu Wei Zhai