Marine Biologist, Author, and Policy Expert Dr. Ayana Elizabeth Johnson to Give Commencement Address for the Class of 2023
Dr. Ayana Elizabeth Johnson, a marine biologist and one of the leading international voices in climate change action, will give the Commencement address to the Middlebury College Class of 2023 on Sunday, May 28.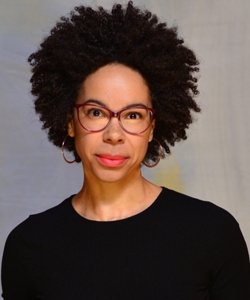 A policy expert and writer, Johnson cofounded and leads Urban Ocean Lab, a think tank for the future of coastal cities. In 2020, she coedited the bestselling climate anthology All We Can Save and cocreated the Spotify/Gimlet climate solutions podcast How to Save a Planet.
"We are deeply honored that Ayana will join us to celebrate the accomplishments of the Class of 2023," said President Laurie Patton. "As a gifted communicator, she tells us the sobering truth about climate change, yet offers a deeply informed vision of how things can improve. She is a challenging and inspiring messenger for our times."
A Brooklyn, New York, native, Johnson earned a BA from Harvard University in environmental science and public policy, and a PhD from Scripps Institution of Oceanography in marine biology. Her writing has been published widely, including in the New York Times, Washington Post, and Scientific American. She serves on the board of directors for GreenWave and Patagonia, on the advisory board of Environmental Voter Project, and on the steering committee for the Ocean Justice Forum. Recently she was recognized with the Schneider Award for climate communication, a place on the Time 100 Next List, and with an appointment to the Secretary of State's Foreign Affairs Policy Board. Johnson's forthcoming book on climate futurism has the working title What If We Get It Right?
"Ayana personifies the climate movement at its best—a first-rate scientist who also understands that, by itself, science can't solve our crisis," said Bill McKibben, Middlebury's Schumann Distinguished Scholar. "She's employed every possible tool—writing, speaking, building institutions, helping organize political power—in order to make a resounding difference. If ever a person exemplified why the liberal arts—all of them—matter, it's Ayana."
Johnson coauthored the Blue New Deal, a roadmap for including the ocean in climate policy. Previously, she was executive director of the Waitt Institute, developed policy at the EPA and NOAA, and taught as an adjunct professor at New York University.
Johnson will receive an honorary Doctor of Science degree at the Commencement ceremony.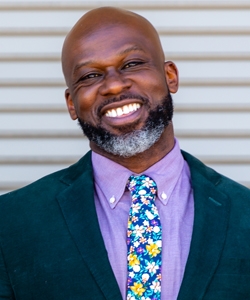 Middlebury will also award honorary degrees to the following individuals at Commencement:
BAMUTHI (Marc Bamuthi Joseph) is a 2017 TED Global Fellow, an inaugural recipient of the Guggenheim Social Practice initiative, and an honoree of the United States Artists Rockefeller Fellowship. His opera libretto, "We Shall Not Be Moved," was named one of 2017's "Best Classical Music Performances" by The New York Times. His evening-length work created in collaboration with composer Daniel Bernard Roumain, "The Just and the Blind," was commissioned by Carnegie Hall and premiered to a sold-out house at Carnegie Hall in March 2019. His upcoming opera, Watch Night, is inspired by the forgiveness exhibited by the congregation of Emanuel AME church in Charleston, and will premiere at the Perelman Center in New York in 2023. Bamuthi's TED talk on linking sport to freedom design among immigrant youth has been viewed more than a million times and is a testament to his capacity to distill complex systems into accessible and poetic presentations. His community development philosophy, called "The Creative Ecosystem," has been implemented in dozens of cities across the United States and is the subject of several critical writings, including one of the seminal essays in Cultural Transformations: Youth and Pedagogies of Possibility, published by Harvard Education Press. Bamuthi is vice president and artistic director of social impact at the John F. Kennedy Center for the Performing Arts in Washington, D.C. He is the founding program director of the nonprofit Youth Speaks and is a cofounder of Life is Living. Bamuthi will receive an honorary Doctor of Arts degree.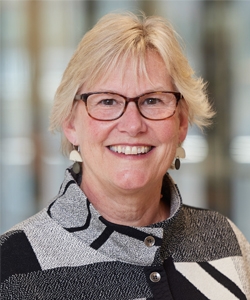 Nancy Gaden is senior vice president and chief nursing officer at Boston Medical Center (BMC) and is a nationally recognized leader in the nursing profession. At BMC—a 514-bed academic medical center and the largest and busiest provider of trauma and emergency services in New England—Gaden leads more than 2,000 employees and manages a budget of more than $300 million. Her work at BMC led to that hospital achieving Magnet designation from the American Nursing Credentialing Center, the highest honor bestowed on a nursing department. In September 2020, Gaden was among 10 women honored by the Commonwealth Institute as a recipient of their 2020 Extraordinary Women Advancing Healthcare Award for being a "remarkable leader shaping healthcare in Massachusetts." Gaden will receive an honorary Doctor of Humane Letters degree.
Thomas M. Wells, Carol Vitz Wells, and Jordyn Wells are cofounders of the Wells Mountain Initiative (WMI), a Bristol, Vermont-based foundation focused on social change through education and community building.
The organization supports young people in the developing world with student scholarships, skills training, and start-up funding, building a network of grassroots leaders who are catalyzing community transformation.
Founded in 2005, WMI has funded 365 student scholars and 285 graduate scholars in 54 countries.

Through their foundation, the Wells family has worked to foster a global community of grassroots leaders and social entrepreneurs who are tackling issues such as gender inequity, educational access, health disparities, and climate change through a locally rooted and community-driven approach, resulting in more just and sustainable solutions.
Carol Vitz Wells, Jordyn Carol Wells, and Thomas M. Wells will each receive honorary Doctor of Humane Letters degrees.
The Commencement ceremony will take place on the main quadrangle at 10 a.m. on Sunday, May 28.