Middlebury College Celebrates Class of 2023
The Middlebury College Class of 2023, whose first year of college was dramatically altered by the COVID-19 pandemic, celebrated their graduation on a picture-perfect May morning on the main quad. The College conferred degrees to 610 students, including those who graduated in February.
President Laurie Patton welcomed the graduates, families and friends, congratulating the senior class for raising more than $100,000 in support of student access through the Seizing Opportunities Fund and the Student Emergency Fund. The funds ensure all students have access to the full Middlebury experience and help them to navigate through difficult times, regardless of their personal circumstances.
Dr. Ayana Elizabeth Johnson gave the Commencement address. A scientist and policy expert who has become a leading voice in climate change solutions, offered an address filled with challenge and humor.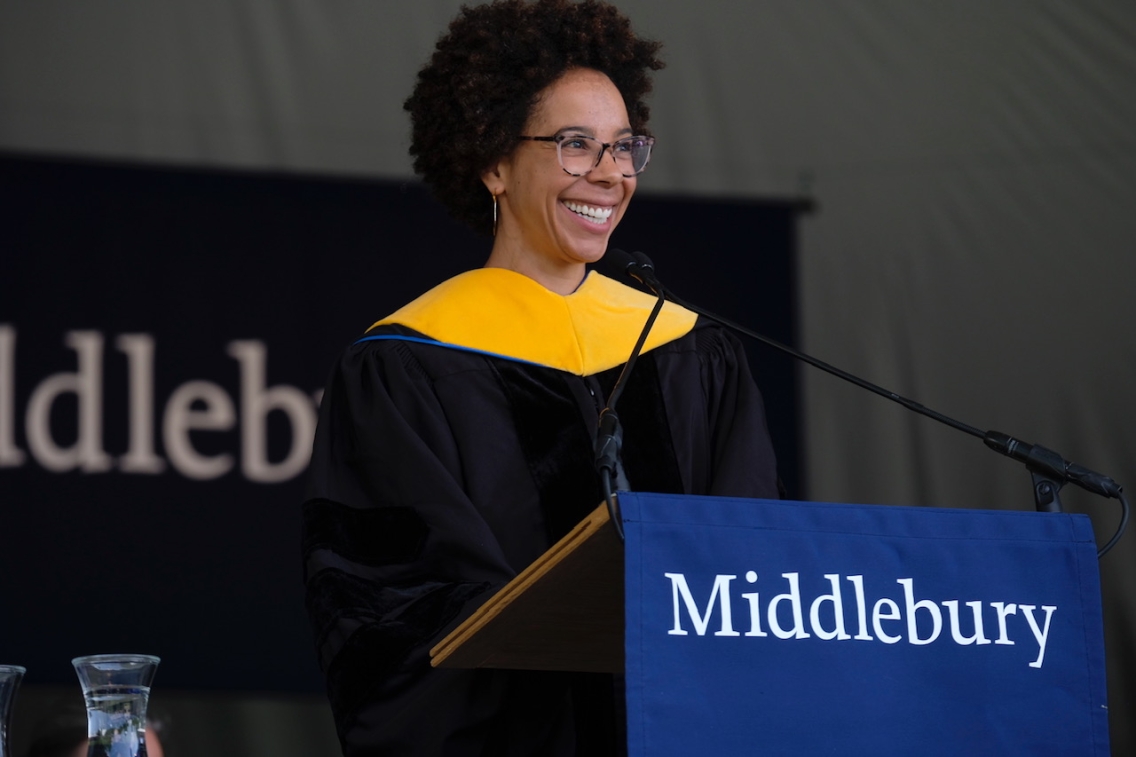 Johnson, who co-founded the non-profit think tank Urban Ocean Lab (with Middlebury alum Jean Flemma '85) and the climate initiative The All We Can Save Project, and co-created the podcast How to Save a Planet, asked the class to consider the ideas of transformation and possibility.
"To address the climate crisis, the all-encompassing challenge that will touch whatever life and work you will go on to, requires that we not just change or adapt, but that we transform society, from extractive to regenerative," said Johnson. "This is a monumental task. And it requires that we focus not on endless analysis of the problem, but on summoning an expansive sense of possibility, on harnessing our imaginations and our creativity."
Despite the grim predictions for climate problems to come, Johnson refused to dwell on hopelessness, noting the one big question that drives her work: "What if we get it right?"
"The truly excellent news is that we already have the solutions we need. We don't need to wait for some jazzy new technology to save us," said Johnson. "We are at the moment where each of us must find our best role in getting it right."
In considering their futures, Johnson asked the graduates to imagine a Venn diagram in which their skills, climate needs, and things that bring them satisfaction form the three circles of the diagram.
"The goal is to be in the heart of this climate action Venn diagram, where these three circles overlap, for as much of your life as you can," she said. "The thing at the center of your Venn diagram can also change. It certainly has for me. And you can have multiple diagrams at once. I certainly take a portfolio approach to my work. But keep going toward where you see a need, where there are gaps you can fill. Keep conjuring."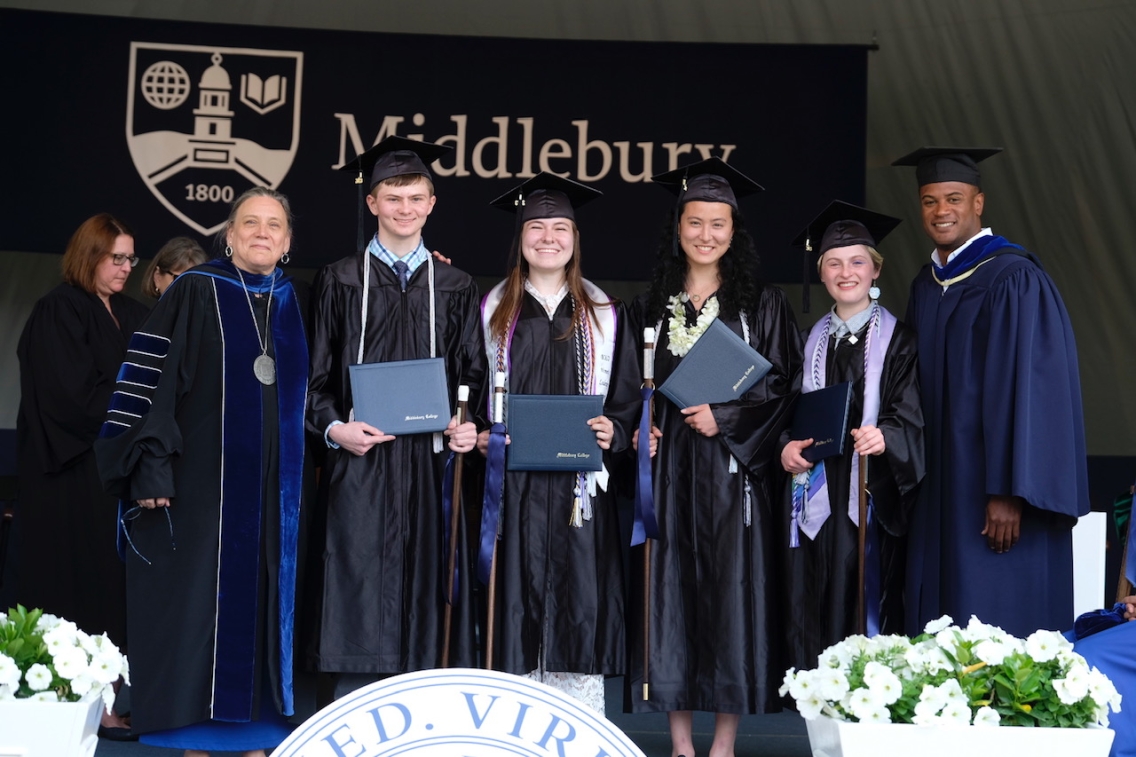 One thing Johnson said she would not advise was for graduates to follow their hearts.
"I have no idea what's in your heart, so that feels a bit reckless, to be honest," she said, "but also because we live in a pivotal time for preserving life on this magnificent planet. So I can't in good conscience tell you to follow your passions and then everything will magically fall into place. Instead, I suggest: go where there is need and where your heart can find a home."
Johnson, who received an honorary doctor of science, was one of six to receive honorary degrees.
Additional Honorary Degree Recipients
BAMUTHI (Marc Bamuthi Joseph) is a 2017 TED Global Fellow, an inaugural recipient of the Guggenheim Social Practice initiative, and an honoree of the United States Artists Rockefeller Fellowship. His opera libretto, "We Shall Not Be Moved," was named one of 2017's "Best Classical Music Performances" by The New York Times. His evening-length work created in collaboration with composer Daniel Bernard Roumain, "The Just and the Blind," was commissioned by Carnegie Hall and premiered to a sold-out house at Carnegie Hall in March 2019. His upcoming opera, Watch Night, is inspired by the forgiveness exhibited by the congregation of Emanuel AME church in Charleston, and will premiere at the Perelman Center in New York. Bamuthi's TED talk on linking sport to freedom design among immigrant youth has been viewed more than a million times and is a testament to his capacity to distill complex systems into accessible and poetic presentations. His community development philosophy, called "The Creative Ecosystem," has been implemented in dozens of cities across the United States and is the subject of several critical writings, including one of the seminal essays in Cultural Transformations: Youth and Pedagogies of Possibility, published by Harvard Education Press. Bamuthi is vice president and artistic director of social impact at the John F. Kennedy Center for the Performing Arts in Washington, D.C. He is the founding program director of the nonprofit Youth Speaks and is a cofounder of Life is Living. Bamuthi received an honorary Doctor of Arts degree.
View the gallery in a new window.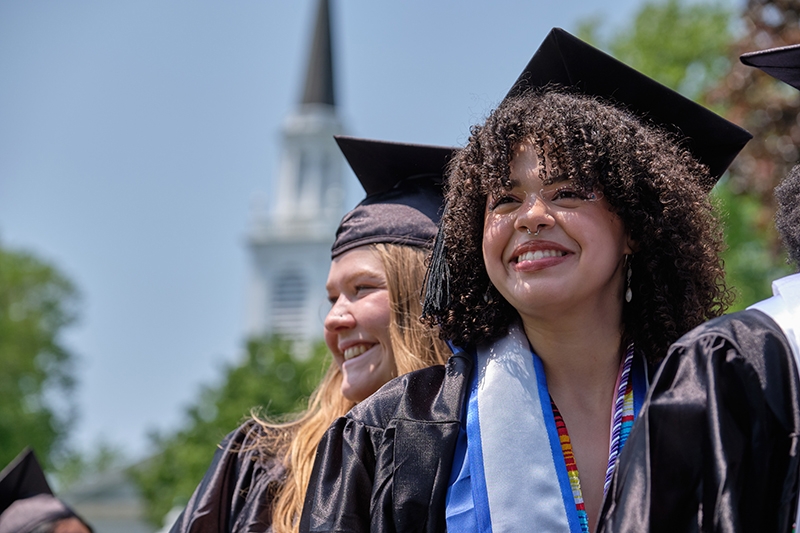 Middlebury College Commencement 2023
It was a beautiful day for Middlebury College Commencement. 
Nancy Gaden is senior vice president and chief nursing officer at Boston Medical Center and is a nationally recognized leader in the nursing profession. At BMC—a 514-bed academic medical center and the largest and busiest provider of trauma and emergency services in New England—Gaden leads more than 2,000 employees and manages a budget of more than $300 million. Her work at BMC led to that hospital achieving Magnet designation from the American Nursing Credentialing Center, the highest honor bestowed on a nursing department. In September 2020, Gaden was among 10 women honored by the Commonwealth Institute as a recipient of their 2020 Extraordinary Women Advancing Healthcare Award for being a "remarkable leader shaping healthcare in Massachusetts." Gaden received an honorary Doctor of Humane Letters degree.
Thomas M. Wells, Carol Vitz Wells, and Jordyn Wells are cofounders of the Wells Mountain Initiative, a Bristol, Vermont-based foundation focused on social change through education and community building.
The organization supports young people in the developing world with student scholarships, skills training, and start-up funding, building a network of grassroots leaders who are catalyzing community transformation.
Founded in 2005, WMI has funded 365 student scholars and 285 graduate scholars in 54 countries.
Through their foundation, the Wells family has worked to foster a global community of grassroots leaders and social entrepreneurs who are tackling issues such as gender inequity, educational access, health disparities, and climate change through a locally rooted and community-driven approach, resulting in more just and sustainable solutions.
Carol Vitz Wells, Jordyn Carol Wells, and Thomas M. Wells each received honorary Doctor of Humane Letters degrees.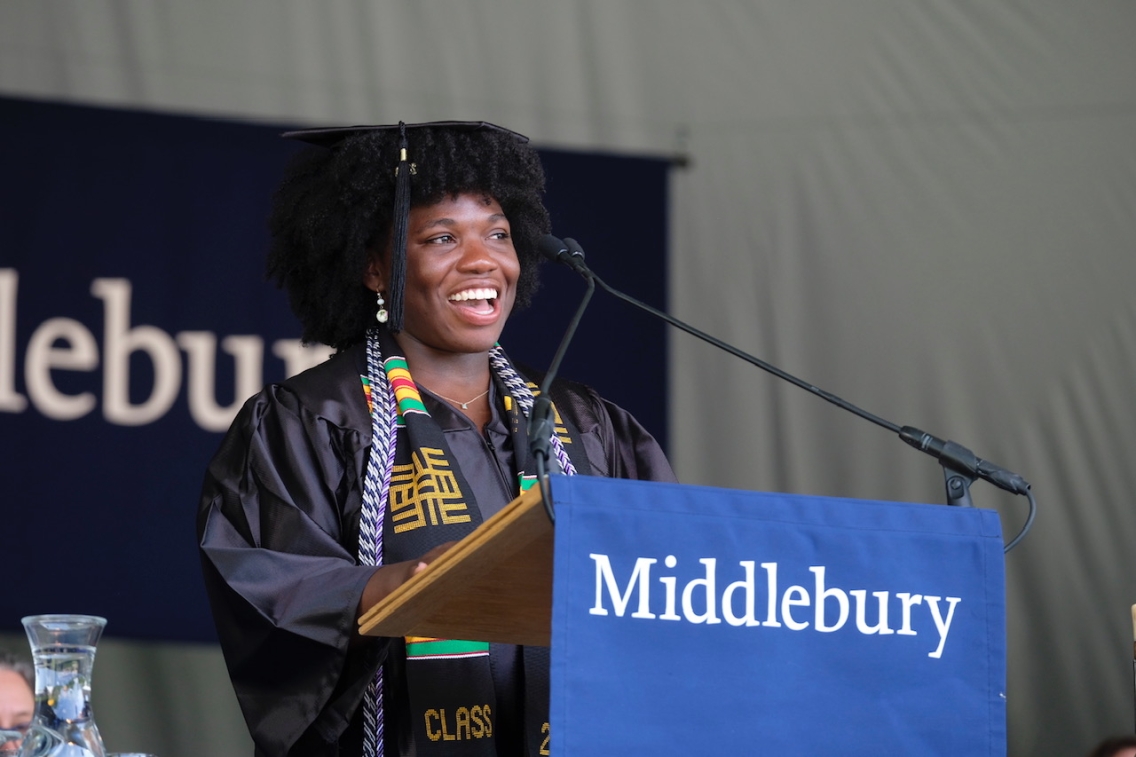 Student Speaker Jordyn Johnson
Jordyn Johnson, a Chinese and political science joint major (no relation to commencement speaker), gave the student Commencement address, recounting how a chance walk into town during her first year at Middlebury led to a revelation by her senior year. Just before classes began in 2019 Johnson and a new hallmate trekked to the stationary store where she bought a journal, imagining that it was important to document all the amazing things that would happen during her college career.
"Looking back through the journal now it is quite a journey," said Johnson. "It's full of very embarrassing stories, some dramatic poems that will never see the light of day, and more than a few great memories of college spontaneity."
As she glanced through four years of journal entries, Johnson noticed that one thing remained constant: her annual goal to grow through experience. "I'm here at graduation and that goal hasn't changed one bit," Johnson said.
"That ability to grow into different roles for each other is something special that starts today, and it's a form of growth that will carry us through the rest of our lives. That ability to be better versions of ourselves and more important people to each other is a bit of magic that we're making together, today."
Pondering the "dreaded" question "What's next?" Johnson realized that growing is an end in itself.
"Because maybe I'll never be done growing, but I know that because of you all I have grown closer to the person I want to be," said Johnson. "You all made me a better student, a better friend, a better leader, a better person. You did that for me and you did that for each other, day in and day out, for four years that weren't what any of us imagined."
President Patton announced that the class valedictorian was Madison Middleton and co-salutatorians were Abigail Kellet Post Chang, Gwendolyn Afton Orme, and Jason Corr Rickenbacher.