Community, Accessibility Are the Focus of New First-Year Residence Hall
Middlebury College this summer will begin construction on a 298-bed, 87,000 square foot residence hall to house first-year students starting in fall 2025.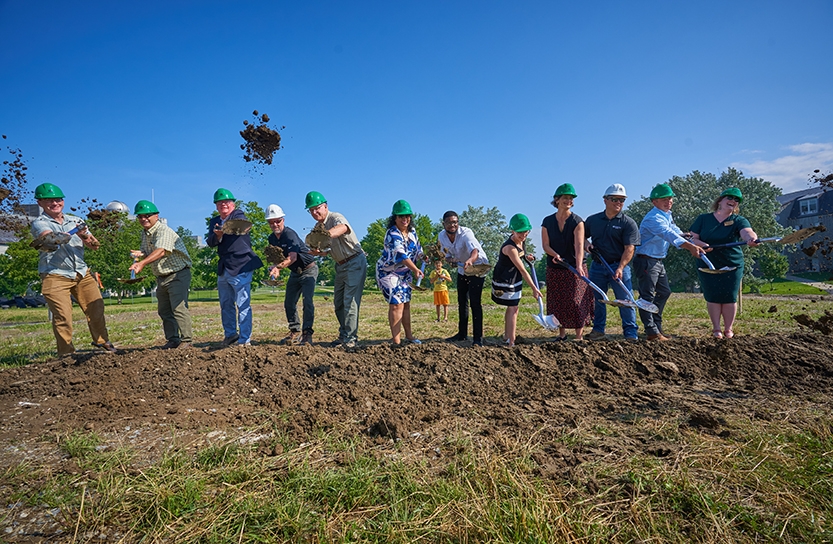 The new building, which is slated for completion by spring 2025, eventually will replace Battell Hall, which currently houses about 40 percent of the first-year class.
In a groundbreaking ceremony at the construction site on June 26, Middlebury leaders celebrated the new design, noting its potential for building a strong community and shared experience among first-year students.
"We're here to celebrate a new beginning," said Executive Vice President for Finance and Administration David Provost. "When this building is completed, nearly half of our Class of 2029 will call it home."
President Laurie Patton was unable to attend the ceremony, but asked Provost to share her remarks. "Our students teach us so much about community and home," wrote Patton. "With this groundbreaking, my deep hope is that we will create another dwelling that the students can call their own. I'm delighted to be able to start the work of making another meaningful place at Middlebury and continuing to put the student experience front and center of all we do."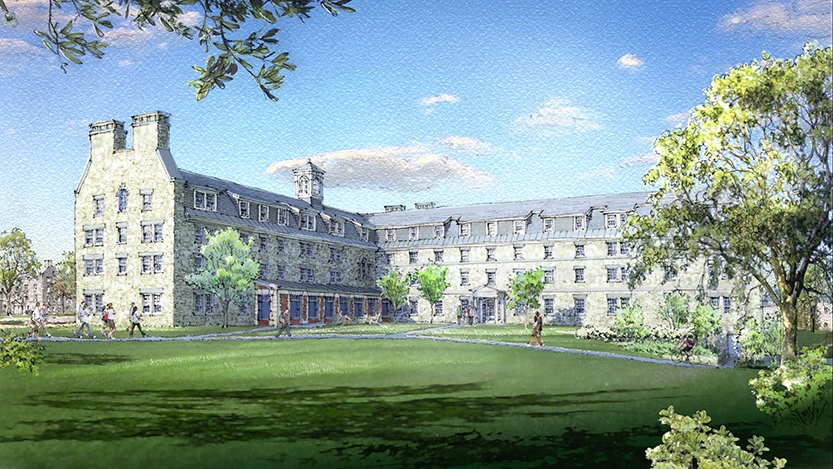 The currently unnamed residence hall will be built along the northern edge of "Battell Beach," a popular green space on the northwestern portion of campus. Battell Hall, which has served as a first-year residence hall for more than 70 years, will continue to be used for the coming year and the next year while Stewart Hall, another first-year residence hall, is renovated.
Vice President for Student Affairs Smita Ruzicka thanked the Middlebury Facilities team and Student Life staff—several of whom were in attendance—for their years of work on the project.
"I know I can speak for my colleagues, especially in residential life, that we are very excited about this new facility," said Ruzicka. "What I'm really excited about is that it will truly be a residence hall for the 21st century student."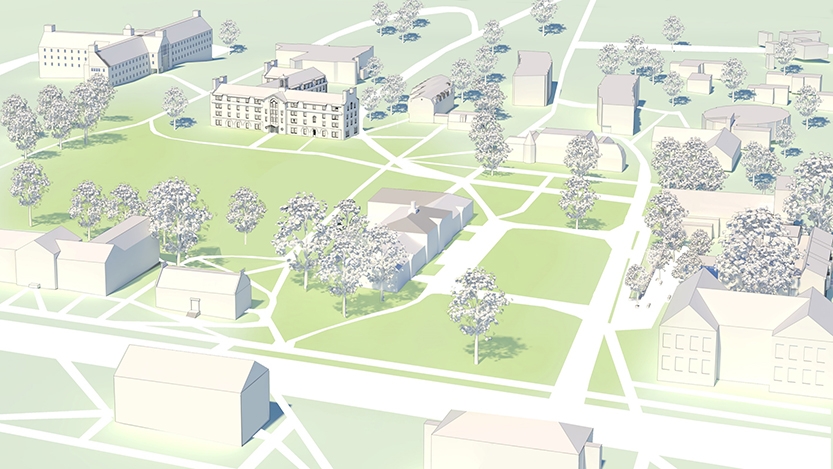 Ruzicka said that inclusivity was a high priority in designing the building, and that all rooms would be fully accessible and all bathrooms gender-neutral. She noted that the COVID-19 pandemic presented some new challenges that highlighted the need for more gathering spaces on campus that foster community, including lounges, study areas, and classrooms.
"All of these things are going to be a game changer when it comes to the first-year experience," said Ruzicka.
Philadelphia-based Voith & Mactavish Architects (VMA), who designed the building, prioritized scale, interpersonal connection, accessibility, and energy efficiency, while maximizing use of the surrounding campus features. The design, which was developed with extensive input from the Student Affairs leadership, encourages cohesion among the first-year class and centralizes access to residential programming such as the First-Year Seminars and the new cocurricular Compass mentorship and life-skills program.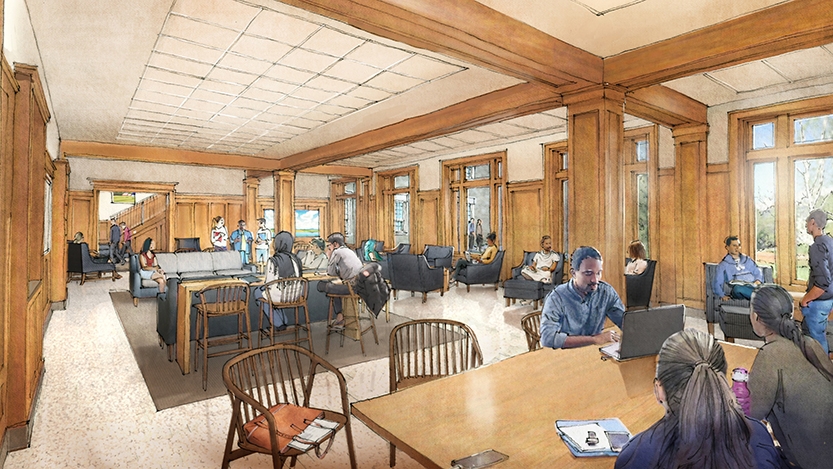 Each floor of the L-shaped building will feature versatile common areas including lounges, study rooms, and communal kitchen spaces where students can collaborate on projects or gather for events. The first floor will also house offices for Residential Life staff and will feature a spacious foyer with a central, open staircase. Throughout the building, ample windows look out on campus views, bringing in natural light and creating a sense of connection to the broader campus landscape.
The building was designed to meet the U.S. Green Building Council's LEED Gold certification standards for green construction, helping Middlebury meet its goal to convert to 100 percent renewable energy by 2028.
Vermont-based Naylor & Breen Builders, Inc., which is currently finishing a major renovation of Johnson Hall just east of the new residence hall site, will manage construction for the project. The design will resonate architecturally with the stone and brick of Forest Hall to the south and with the developing arts quadrangle to the southeast.