Middlebury Welcomes New Faculty for 2023-2024 Academic Year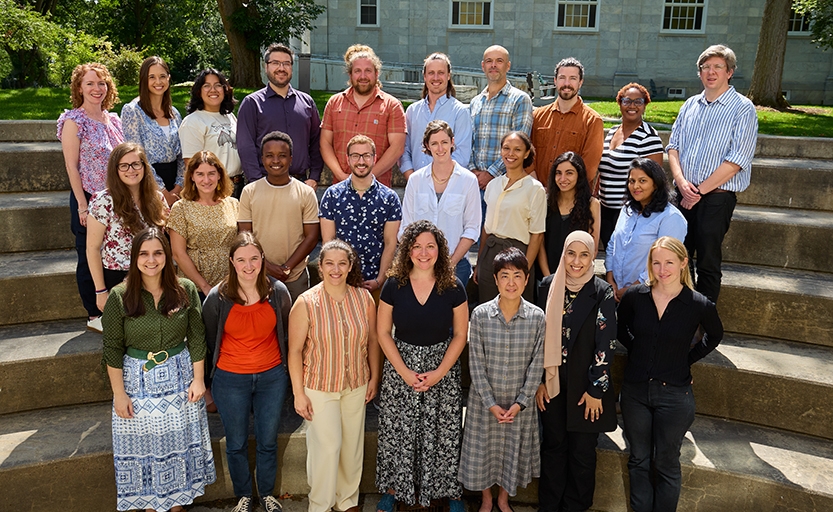 Middlebury College welcomed a diverse cohort of new faculty this fall with expertise in a broad range of academic disciplines, including computer science,languages, theater, religion, physics, economics, architecture, and education studies.
"It has been a great pleasure to meet and talk with our many new faculty members," said Jeremy Ward, vice president for Academic Affairs. "They bring an enormous diversity of experience, expertise, and viewpoints to our community and students. I encourage all members of our community to welcome them in the coming weeks and months."
The following will join the Middlebury faculty in tenured or tenure-track positions:
Therese Banks, assistant professor of French and Francophone studies, earned her PhD in Romance languages and literature from Harvard University and her BA in English and French from Cornell University. Her research focuses on representations of religious violence in medieval and early modern French literature, particularly around the Crusades and the French Wars of Religion. She is also interested in questions of early modern race and nation formation. 
Laura Biester, assistant professor of computer science, holds a PhD and MS in computer science and engineering from the University of Michigan and a BA in computer science from Carleton College. Her research interests are at the intersection of Natural Language Processing (NLP) and computational social science. Her thesis focused on modeling change in language over time for individuals with depression, primarily using social media data. She won an outstanding GSI award from Rackham Graduate School at the University of Michigan and a Graduate Student Service Award for Excellence in Climate, Diversity, and Inclusion from the computer science and engineering department.
McKinley Brumback, assistant professor of physics, has a PhD in physics and astronomy from Dartmouth College and a BS in physics from Hamilton College. She served as a postdoctoral research fellow at the California Institute of Technology and subsequently at the University of Michigan. Her research interests lie in X-ray astrophysics studies of neutron stars, with particular interest in learning how gas interacts with the strong magnetic and gravitational fields around these sources.  
Philip Caplan, assistant professor of computer science, earned his PhD and SM in Aeronautics and Astronautics from the Massachusetts Institute of Technology and a BEng in Mechanical Engineering from McGill University. His research focuses on developing meshing tools to support fast and accurate computational fluid dynamics simulations. 
Zara Contractor, assistant professor of economics, has a PhD, MA, M. Phil., and BA in economics from Yale University. She studies ​​macroeconomics and labor economics. Her current research focuses on the effect of technologies like software on wage inequality.   
Alice Gindin, assistant professor of economics, holds a PhD in economics from the University of Pennsylvania and a BA in economics and BS in mathematics from the University of Rochester. She specializes in microeconomic theory with an interest in political economy, learning and contract theory. 
Marguerite Lenius, assistant professor of history of art and architecture, earned a PhD and MA in art history from the University of Wisconsin-Madison and a BA in art history from Columbia University. Having trained as a theater actor in New York City and England, her research combines these two interests in the visual and performing arts. It focuses on object/body relations and how the senses inform the creation of figurative imagery in traditional healing contexts (medicine dances, adolescent initiations, ancestral propitiation ceremonies, etc.) in Bantu communities in northeastern Tanzania, especially those living in the West Usambara Mountains.
Jerry Philogene, associate professor of black studies, earned a PhD in American studies and an MA in visual arts administration and arts history from New York University, and a BA in art history from New School University. She previously served as associate professor in American Studies at Dickinson College, specializing in interdisciplinary American cultural history, art history, and visual arts of the Caribbean and the African diaspora with an emphasis on the Francophone Caribbean. She is an independent curator, and co-organized the Myrlande Constant: The Work of Radiance, an exhibition on the contemporary textile works of Haitian artist Myrlande Constant at the Fowler Museum, UCLA. She is the recipient of a 2020 Andy Warhol Foundation Arts Writers Grant for her book manuscript The Socially Dead and Improbable Citizen: Visualizing Haitian Humanity and Visual Aesthetics. She is also writing a monograph on Haitian modernist artist, Luce Turnier. 
Daniele Simon, assistant professor of music, has a PhD in musicology from the University of California-Berkeley, an MA in humanities and humanistic studies from the University of Chicago, and a BA in music and literature from the University of the Puget Sound. She studies the intersection of musical performance and emerging media technologies in Italy during and after the fascist period. Her current book, Fascism On Air, explores how music broadcast on the radio generated and mediated political relationships within Italy and abroad during the first three decades of Italian radio broadcasting. She is also a fellow of the American Academy in Rome and the Dartmouth Society of Fellows.
Chialan Sharon Wang, assistant professor of Chinese, earned a PhD in comparative literature from the University of Southern California and an MA in English from National Taiwan Normal University. Her research focuses on Chinese-language film and literature, postcolonial theories, and cultural studies. She is also interested in Sinophone film and literature, and postcolonial studies, and is working on a book about the representation of history in Sinophone cinema.
Instructors 
Maryait Khader, M.A., University of Jordan, Visiting Instructor in Arabic
Laura MacMullin, M.A., University of Toronto, Visiting Instructor in Psychology
Sasha Portice, M.A., Univ. of Wisconsin-Madison, Instructor in Russian 
Thomas Preston, M.Phil., Columbia University, Visiting Instructor in German
Germán Reyes, M.A., Universidad Nacional de La Plata, Instructor in Economics
Lecturers/Other 
Jason Dolatshahi, M.S., Kings College London, Lecturer in Economics 
Richard Finkelstein, Doctor of Medicine, Univ. of Maryland, Lecturer in Global Health 
Mclean Macionis, M.F.A., CA Institute of the Arts, Professor of the Practice, Music 
Ron Makleff, Ph.D., University of California-Berkeley, Lecturer, First Year Seminar
Sarika Sharma, Ph.D., Syracuse University, Asst. Teaching Prof., First Year Seminar
Petrea Sweeny, M.Arch., Cornell University, Professor of the Practice, Arch. Studies.
Teaching Assistants/Assistants in Instruction
Valeria Bedoya Cerquera, B.A., Pontificia Univ. Javeriana, Teaching Assistant in Spanish
Priscilla Downey, M.A., Middlebury, Teaching Assistant in Chinese
Smith Gakuya, B.A., Middlebury College, Asst. in Instruction, Computer Science 
Lisa-Marie Lakomy, Johannes Gutenberg University, Teaching Assistant in German
Dario Landi, University of Florence, Teaching Assistant in Italian 
Jennilyn Leroy, University of Poitiers, Teaching Assistant in French 
Anita Maria Pequeno Soares, M.A., Federal University of Pernambuco, Teaching Assistant in Portuguese 
Tokiko Saigo, M.S., Univ. of Tokyo, Japan, Teaching Assistant in Japanese
Lauren Sayula, B.A., Middlebury College, Asst. in Instruction, Film & Media Culture
Raghad Sayyed, University of Jordan, Teaching Assistant in Arabic
Dinara Zhumagambetova, B.A., Nazarbayev Univ., Teaching Assistant in Russian