Fourteen Students Elected to Phi Beta Kappa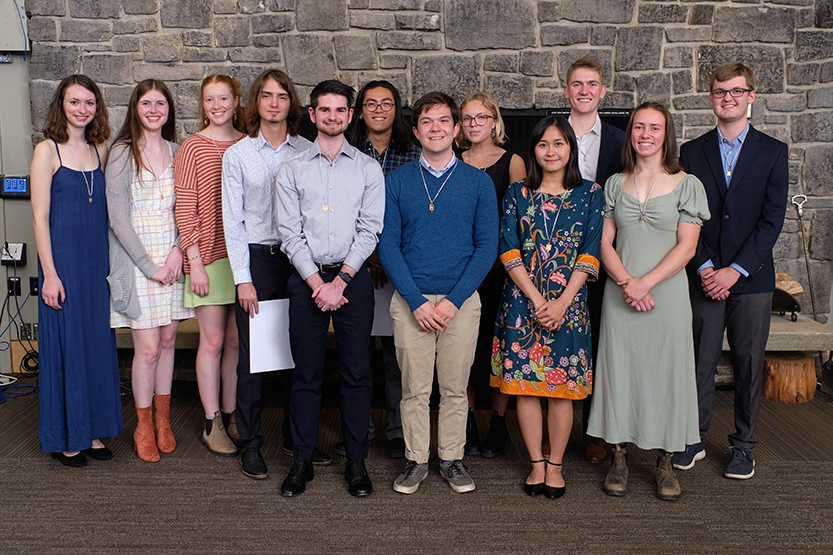 Established in 1776, The Phi Beta Kappa Society is one of the country's most prestigious academic honor societies, recognizing achievement in the liberal arts and sciences. The Middlebury College chapter, the Beta chapter of Vermont, was established in 1868 and is the 13th oldest Phi Beta Kappa chapter in existence. Up to 10 percent of Middlebury seniors are elected to Phi Beta Kappa annually, with two percent elected in August based on six semesters of work and up to eight percent elected in May based on eight semesters of work.
The following seniors have been elected to Phi Beta Kappa on the basis of work through their junior year. Students were inducted during a ceremony at the Kirk Center over Fall Family Weekend.
Emma Auer '23.5
Nicholas Dahlen '24
Sophia Fatima '24
Annabelle Iredale '23.5
Emma Johnson '23.5
Acadia Klepeis '24 
Margaret Mead-McCaughan '24
Ryo Nishikubo '23.5
Megan Paasche '24
Tobias Pouler '24
William Procter '24
Andriy Svystun '24
Dylan Taylor '24
Hanwen Zhang '24