In Memoriam: Professor Emeritus David Littlefield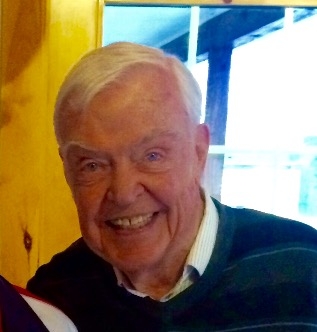 David J. Littlefield
MIDDLEBURY, Vt. – Middlebury notes the death of retired professor David J. Littlefield, 88, who died in Middlebury on Sunday, November 20. Littlefield, the Stewart Professor Emeritus of English and a beloved faculty member, taught at the undergraduate college for 39 years.
Littlefield began his Middlebury career in 1953 as an instructor after earning his master's degree at Yale. In 1956, he returned to Yale to earn his PhD, but before he left, then-chair of the English Department Douglas Beers assured Littlefield that a job would be waiting for him at Middlebury after he completed his graduate studies. He returned to Middlebury in 1959 and taught English until his retirement in 1995.
Littlefield became a full professor and was named to the Old Dominion Professorship in 1969. In 1974 he was named to the Philip Battell Stewart and Sarah Frances Cowles Stewart Professorship. He was also the author of Pomona and Vertumnus: A Fruition of History in Ovid's Metamorphoses and numerous scholarly papers.
Littlefield inspired generations of students and his colleagues with his passion for his subjects, and served as a valued mentor for younger faculty in the department. He enthusiastically immersed himself in a wide range of topics, including Milton—one of his primary areas of scholarship—as well as Chaucer, classical literature, English literature from the 16th, 17th, and 18th centuries, practical criticism, and the films of such directors as Robert Altman and Stanley Kubrick.
"David was the archetype of a Middlebury professor in his era," said Jay Parini, D. E. Axinn Professor of English and Creative Writing. "A gentleman to his fingertips: kind and sensitive to students and colleagues alike. He was a deeply learned man who wore this lightly and was a natural teacher—inside and outside the class. I admired him deeply and feel grateful to him for his example."
"David was the first member of the Middlebury faculty I met, when he interviewed me in 1972," said College Professor Emeritus John Elder. "His high-spirited, intellectually curious outlook inspired me, and made me even happier to receive an invitation to join the English Department."
Colleague and C. A. Dana Professor of English and American Literatures David Price shared a similarly deep appreciation. "David Littlefield was my mentor and my dear friend. From the moment I arrived on campus in the fall of 1970, David took it upon himself to advise, guide, and support me in innumerable ways, and always in the friendliest and most generous spirit," said Price. "I depended on him for so many things, and he never failed to give fully of his time and counsel. Both his office and his home were always open to me, and his concern for my personal welfare as well as my professional development was always in evidence. He taught me a great deal about teaching. I hope I honor him by remembering him as one of the most formative and enduring influences in all my years at Middlebury."
After receiving his undergraduate degree from Spring Hill College, Littlefield served in the U.S. Air Force from 1951–1952. He was a member of several academic organizations, including the Modern Language Association, American Association of University Professors, and the American Philological Association.
Predeceased by his wife, Jean, he is survived by his son Patrick Littlefield and wife Amelia Rogers of Boxborough, Mass.; David J. Littlefield Jr. '79 and wife Karen Stolley '77 of Atlanta, Ga.; Mark Littlefield of Brandon; and Christopher Littlefield, who attended the Middlebury School of Japanese, and wife Sarah (Gordon) '92 of Reading, Mass., and eight grandchildren, including Malcolm H. Littlefield '13.
The family has requested that donations in lieu of flowers be made to a fund that was established in 2013 in honor of David and his wife Jean by Sabin C. Streeter '63. The fund supports undergraduate scholarships at Middlebury, with preference for students from Vermont. Checks may be made out to Middlebury College and sent to:
David J. and Jean J. Littlefield P'79 Scholarship Fund
Gift administration
Office of Advancement
700 Exchange Street
Middlebury, VT 05753
The family is planning a memorial service for a future date, and the College will share this information with the campus community when it becomes available.