In Memoriam: John Spencer, Former Faculty Member, Trustee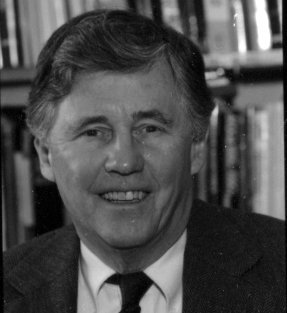 John Spencer in a 1992 photo from Middlebury Special Collections and Archives.
MIDDLEBURY, Vt. – John Spencer, African Studies Emeritus Professor of History and a former trustee, died on December 31 in the rehab section of the Osborn, an assisted living facility in Rye, New York, where he and his wife Natalie shared an apartment. Spencer, who was 86, devoted more than 35 years of service to Middlebury in a variety of roles.
When Spencer arrived as an instructor of history in 1974, he did not have a traditional academic background, but he did bring a considerable wealth of experience. After earning his bachelor's degree from Princeton in 1953, Spencer served for two years as first lieutenant, infantry platoon leader, in the U.S. Marine Corps in Korea. He then worked for five years at the National Sugar Refining Company, two years as a fellow with the Institute of Current World Affairs in East Africa, three years as program officer at the Ford Foundation for Eastern, Northern, and Southern Africa, and as a Peace Corps evaluator for Gambia, Mauritania, and Senegal. His work with the Peace Corps eventually led him to earn his MA and PhD from Columbia University.
At Middlebury, Spencer was named assistant professor of history in 1975, served as dean of the College from 1976–1981, was promoted to associate professor of history in 1978, and to professor of history in 1983. He was named William R. Kenan Jr. Professor of History from 1987–1990 and chaired the history department from 1988­–1991. From 1992 until his retirement in 1998, Spencer was professor of African studies.
"He was a marvelous colleague and a marvelous teacher," says Travis Jacobs, the Fletcher D. Proctor Professor Emeritus of History, who worked with Spencer throughout his time at Middlebury. "The enthusiasm he brought to his work was contagious and he developed a very strong following among students and colleagues, becoming one of the best and most highly respected professors on campus." Jacobs credits Spencer with reviving and building an African studies program in the 1970s.
A speaker of German, French, and Swahili, Spencer led student and alumni trips to Africa within his first few years at Middlebury. He also developed a very popular course on Middle Eastern history.
Ted Perry, Fletcher Professor of the Arts Emeritus, describes Spencer's impact on the College as a teacher, scholar, administrator, trustee, and friend. "Many current faculty will remember him as a mentor, offering sage advice about how to survive and be exceptional at Middlebury," Perry said. "Many students will remember his extraordinarily helpful role in emphasizing oral presentations, a practice he made central to success in his classes. He knew it was a skill they would need in whatever life's work they chose."
Over the course of his career, Spencer's contributions to the College included serving on Faculty Council; chairing the Educational Council; and serving on the Committee on Senior Faculty Review and the Committee on Re-Appointment.
In an email on January 3, former Middlebury President John McCardell Jr. reflected on his many years working with John Spencer: "John was a dear colleague and friend: a model administrator, a masterful teacher, a true student and mentor in the field of public speaking (keep your jacket buttoned, never say 'uh,' don't breathe through your mouth), a supportive colleague, a loyal friend. He was a model institutional and departmental citizen. He truly 'made' the field of African history at Middlebury—students flocked to his courses."
Outside Middlebury, Spencer's numerous professional achievements included serving as a trustee of the African Medical Research Foundation; a trustee of Atlanta University; and as trustee and vice-chairman of both the Africa-America Institute and the Institute of Current World Affairs. He was also appointed as an international observer for the 1994 South African elections.
In recognition of Spencer's dedication to strengthening the quality of undergraduate teaching, friends and alumni in 1992 endowed the Chair in African Studies, which, upon his retirement in 1998, was officially named the John Spencer Chair of African Studies.
Immediately following his retirement from the faculty, Spencer was elected to Middlebury's Board of Trustees, serving through 2008. Churchill Franklin '71, who was chair of the trustees during John's service on the board, says, "John cared deeply about this college and wanted every student to both grasp the importance of history in understanding world affairs as well as the ability to convey one's thoughts in front of a crowd. As a member of the Board of Trustees, his global perspective, insight into history, concern for the student, and oratory ability made him a very popular resource for all board members, particularly me as board chair when faculty perspectives were a crucial piece of the discussion."
Two of Spencer's children are Middlebury alumni: Theodore Spencer is a member of the Class of 1988 and Natalie Spencer Brokaw is a member of the Class of 1994.
At this time, there are no details about a memorial service. The College is currently developing an oratory prize in Spencer's honor, the details of which will be announced at a future date.