In Memoriam: Professor Emeritus Sandy Martin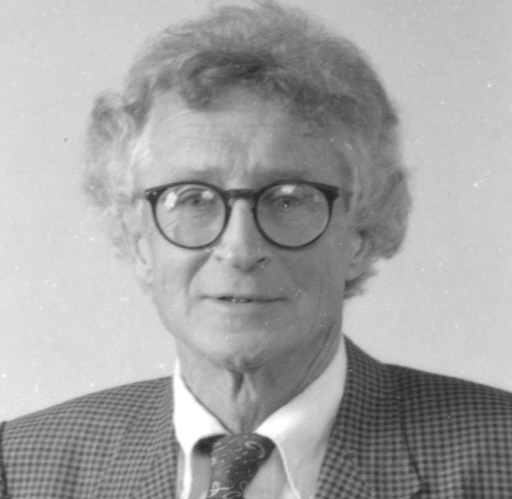 Sandy Martin in a 1989 photo from Middlebury
Special Collections and Archives.
MIDDLEBURY, Vt. – Edward Alexander "Sandy" Martin, professor emeritus of English and former assistant director of the Bread Loaf Writers' Conference, died in Middlebury at age 89 on January 12. Martin taught at the undergraduate college for 35 years, always approaching his students, colleagues, and work with kindness, intelligence, and gentleness.
Martin began his career in 1961 as an instructor at Middlebury after earning his doctorate in English and American literature at Columbia University earlier the same year. He taught at Middlebury until he retired in 1996.
Martin became a full professor in 1976 and was appointed to the Henry Norman Hudson Professorship in 1987. He also served as director of the New England Young Writers' Conference, chair of the English Department, and director of the College Freshman Writing Program.
Martin cared deeply about how literature and writing are taught, and he shared his joy of literature with generations of Middlebury students. His course subjects spanned a wide range, from Shakespeare and Faulkner to creative writing. Martin's areas of scholarship included American satire; English and American pastoral literature; and Chaucer and medieval literature. Both his students and his colleagues appreciated his superb listening skills and his wry sense of humor. After his official retirement, he continued to teach part-time at the College.
An H. L. Mencken scholar, Martin was the author of two books on the American journalist and cultural critic: "H. L. Mencken and the Debunkers" and "In Defense of Marion." He served several terms as the president of the H. L. Mencken Society.
"Sandy was chair of the English Department during my early years at the College, and I was always impressed by his kind, fair-minded, calm, and quietly reassuring presence," said Jay Parini, D. E. Axinn Professor of English and Creative Writing. "He was a fine scholar, and he took his students and colleagues with equal seriousness, always willing, even eager, to listen. His presence in Middlebury will very much be missed."
"Sandy Martin was an invaluable mentor to me when I arrived in the 1970s," said Elizabeth Napier, professor of English and American literatures. "His gentle demeanor and careful attention to student work­—and to his own scholarship—consistently emphasized the central role of patience, diligence, and dignity in teaching."
At Martin's inaugural lecture as the Henry Norman Hudson Professor, President John McCardell introduced him and said, "Whenever we have needed a firm hand and a quiet voice, a good listener and a credible respondent, unassailable integrity and disinterested citizenship, the College has time and again turned to Sandy Martin."
Martin received his undergraduate degree from Princeton and his master's at Columbia. He was drafted into the Navy at the end of World War II (1945–1946) and into the Army during the Korean War (1952–1954).
An early member of the Middlebury Volunteer Ambulance Association, Martin also served multiple terms on the Mary Hogan Elementary School and Middlebury Union High School boards.
Martin is survived by his wife, Peg, and their four children: son Quentin Alexander Martin and Angel Rayford; son Ian Stewart Martin, his wife Nancy McClaran, and granddaughters Bryn and Reed; son Robert Geddes Martin, his wife MaryAnna Bishop-Martin, granddaughter Claire, and grandson Avery; and daughter Margaret Carveth Martin, her husband Curtiss Calleo, and grandson Aidan.
The family has requested that donations in lieu of flowers be sent to Addison County Home Health and Hospice, P.O. Box 764, Middlebury, VT 05753, or Project Independence, P.O. Box 581, Middlebury, VT 05753.
The family is planning a gathering in Martin's honor for a later date. The College will share this information with the campus community when it becomes available.