In Memoriam: Drue Gensler '57, Former Trustee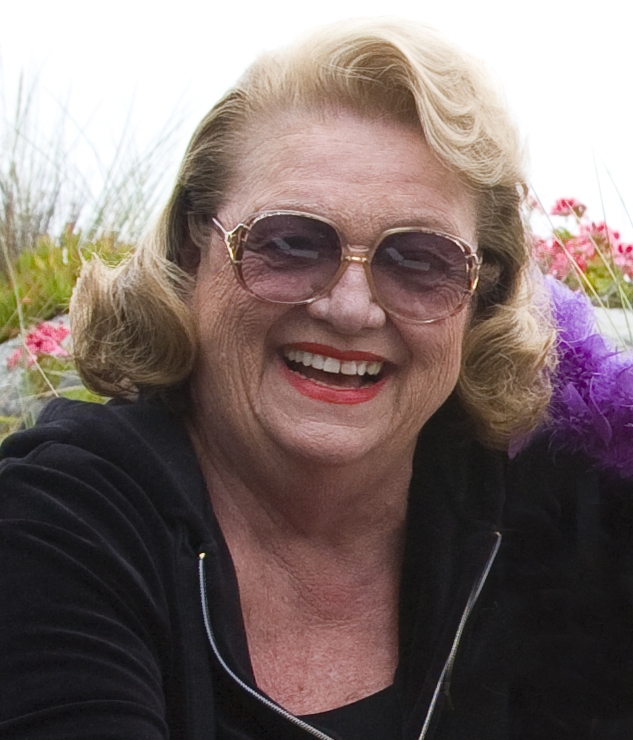 MIDDLEBURY, Vt. – The Middlebury College community mourns the passing of former trustee Drue Gensler, Class of 1957, a lifelong champion for the rights of women and a driving force behind the creation of the May Belle Chellis Women's Resource Center and the Program in Gender, Sexuality, and Feminist Studies at Middlebury College.
A tower of strength, Drucilla "Drue" Cortell Gensler was an ardent feminist and businesswoman, and a devoted wife, mother, grandmother, and role model to all. She died peacefully on the morning of July 20, 2017, at her Mill Valley, Calif., home. She was 81 years of age.
Drue served two terms on the Middlebury Board of Trustees from 1994 through 2004, and, when she stepped down from the board, her fellow trustees saluted her for personifying "the importance of developing and maintaining a vibrant civil society," not only at Middlebury but on behalf of the Marin Theatre Company, San Francisco Symphony, Planned Parenthood, Women's Architectural League, Initiative to Educate Afghan Women, and other organizations.
Churchill Franklin '71, who chaired the Middlebury Board of Trustees during the latter half of Gensler's tenure, recalled, "In the boardroom Drue was a feisty and provocative promoter and a constant supporter for woman's rights. She is part of the reason why women's representation on the Middlebury board is so robust and balanced today. She was a force to be reckoned with and one I will never forget."
A theatre major at Middlebury, Drue Cortell married Cornell graduate M. Arthur Gensler Jr. in 1957 and worked as a teacher, salesperson, waitress, group leader, and counselor. Arthur and Drue, together with an associate, founded the Gensler architectural firm in 1965. Drue served on the board of directors, helping to guide the company to its position today as one of the world's largest and most collaborative architectural firms with approximately 5,000 employees and 3,500 active clients in 44 locations worldwide. Drue had a passion for working with the women in the firm, encouraging them to grow and take on leadership roles.
Middlebury College President Laurie L. Patton said, "Drue was the embodiment of the fighting spirit—filled with humor, care, toughness and compassion all in one high-energy person. She was a great advocate for women in all walks of life, whether in Middlebury, Vt., or in Kabul, Afghanistan. Middlebury was fortunate to benefit from her wisdom and passion as an alum, a trustee, and fellow traveler."
Gensler was generous to her alma mater, in particular to the theatre and women's studies programs, and, by lending her name and support to the annual Gensler Family Symposium on Feminism in a Global Context, she enabled the college community to probe topics like "Sex and War," "Body Parts," and "The Feminist Response to Mass Incarceration."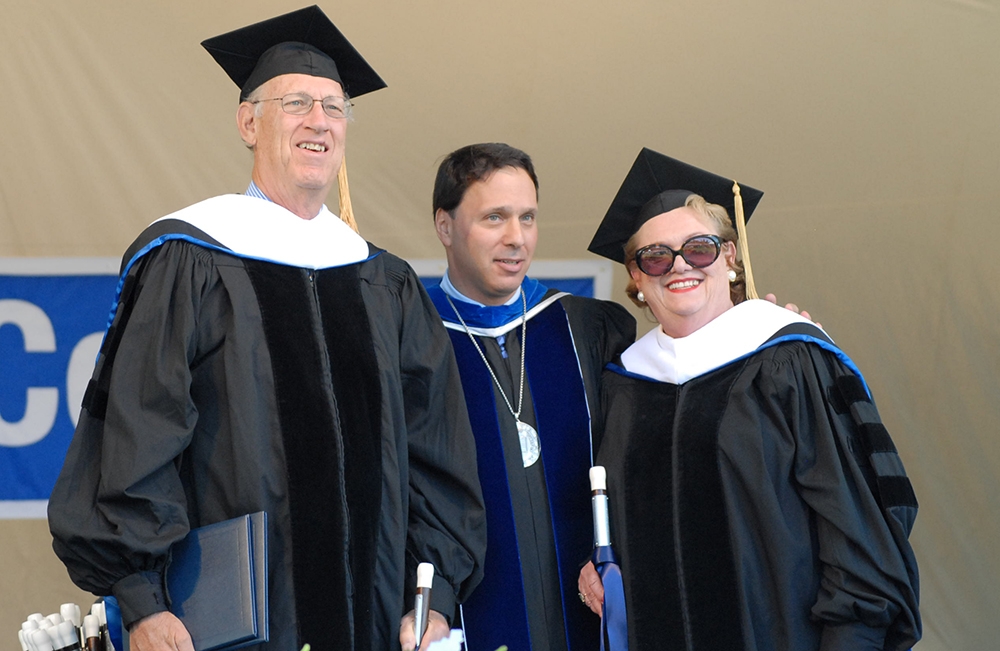 Drue Gensler '57 (right) and husband, Art, received honorary Doctor of Humane Letters degrees from then-Middlebury President Ron Liebowitz (center) at the 2008 Commencement.
Professor Sujata Moorti, director of the Program in Gender, Sexuality, and Feminist Studies, said Gensler was "a vital force in the formation of Chellis House, the major in GSFS (what was then called Women's Studies), and through the various prizes she funded. She helped foster a collegewide awareness about gender issues."
"She vigilantly monitored Middlebury's strides toward gender justice," Moorti added, "and through her example and her behind-the-scenes activism for gender equity, she helped nurture our students' passions for social justice. We will always remember her infectious laugh and her generosity, which has ensured that GSFS is an intellectually vibrant community on campus."
Born in New York City and a 1953 graduate of the Barnard School for Girls, Drue Cortell was active in dramatics during her Middlebury years performing as Hero in a comic dissertation on love called Reflexions, and directing a one-act play titled The Lottery, among her theatrical credits. She also participated in the Women's Forum and was nominated for Junior Weekend Queen.
Upon her retirement from the Middlebury Board of Trustees, then-President John M. McCardell Jr. and Board Chair Churchill Franklin said, "Drue Gensler's efforts have been instrumental in enhancing the place of women in all aspects of the life of Middlebury College."
Gensler leaves her husband, Arthur; four sons, David, Robert, Kenneth, and Douglas; and 10 grandchildren including Aaron Gensler '08.
In lieu of flowers, donations may be made to the Chellis Women's Resource Center at Middlebury College or the Initiative to Educate Afghan Women (ieaw.org). A celebration of the life of Drue Gensler will be held at a later date.
For More Information