In Memoriam: Crister Garrett
The following message was emailed by Jeff Dayton Johnson, vice president of academic affairs and dean of the Institute, on March 12, 2019.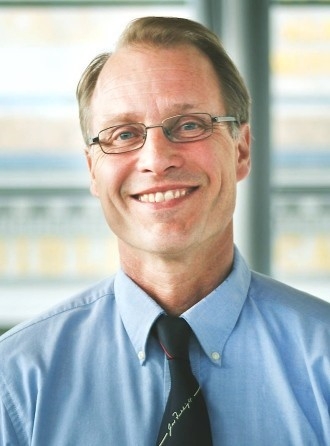 Crister Garrett MAIPS '87
I am writing to share the sad news that Institute alumnus, faculty member, and friend Dr. Crister Garrett MAIPS '87 died of cancer last week at the age of 56, in Leipzig, Germany, where he has lived and worked for a number of years. He is survived by his wife Claudia and daughters Kajsa and Sanna, as well as his brother Eric, sister Katja, and mother Marta.
Some of you knew Crister personally, others have known his family for many years, and to still others his name may not be familiar at all. That is one of the reasons why it is worth taking a moment to commemorate the life of a man who almost literally grew up as part of this campus community, first as the son of a professor, then as a student, an alumnus, a faculty member and, on his periodic visits to give back to his alma mater, a favorite son of sorts.
Crister was introduced to the then-Monterey Institute community by his father Stephen Garrett, who was a professor in the International Policy Studies program for 39 years, from 1972 through 2011. After attending many campus events over the years, and completing his BA at University of California, Santa Barbara, Crister enrolled as a student at the Institute, graduating in 1987 with a master's degree in International Policy Studies. He later earned his PhD at the University of California, Los Angeles and subsequently joined the Institute staff for several years, ultimately serving as an adjunct professor in 1998-99.
After teaching at the Institute, Crister went on to teach at the University of Wisconsin-Madison and then, beginning in 2005, at the University of Leipzig in Germany. There, Crister taught American history as well as contemporary politics and society, and his research interests focused on the transatlantic relationship between the U.S. and Europe, as well as American foreign policy. Due to his expertise, he was regularly interviewed by the German media regarding American policy and politics.
An announcement from the University of Leipzig said of Crister: "His optimism, his energy and his friendly and cheerful nature made him a well-respected and popular colleague throughout the faculty." Crister was also the "driving force" behind American Space Leipzig, a University-affiliated organization dedicated to promoting and supporting German-American relations.
In addition, after his father's death in 2011, Crister served as his family's point of contact for the Institute's Stephen A. Garrett Scholarship Fund for Ethics and International Affairs. Continuing his decades-long connection to the Institute, he served as recently as fall 2016 as a guest lecturer in the Institute's Graduate Initiative for Russian Studies, offering his analysis of contemporary relations between Germany and Russia.
"Crister represented the true spirit of a MIIS alumnus," wrote Leah Gowron MPA '97, former director of alumni relations, after hearing the news. "His commitment to international education and engagement, his personal achievements—Bosch and Fulbright awards, among others—living and working in a number of countries and acquiring languages along the way all demonstrated that. The fact that Crister shared and hopefully instilled that same spirit and desire for adventure and learning in generations of students will be his legacy in academia. For those of us blessed to have known him, his legacy will be his charming smile, his boisterous laugh, and the dubious fashion preference for sweater vests that he shared with his father, longtime MIIS Professor Steve Garrett. Those are the memories that will live on and continue to make us smile."
From his childhood through his student years to his career as a distinguished academic, Crister Garrett was a vital part of the Institute's global campus community. He will be missed, and warmly remembered, by his Institute family.
Best regards,
Jeff Dayton-Johnson
Vice President for Academic Affairs and Dean of the Institute