In Memoriam: Former Associate Professor David B. Van Vleck
MIDDLEBURY, Vt. – David B. Van Vleck, a biologist and science educator who taught at Middlebury College as an associate professor from 1968 through 1972, died on April 22, 2019, in Cornwall, Vt. He was 89 years of age.
He was perhaps best known in Addison County for his work as a science teacher (1974-1992) and department head at Middlebury Union High School, where he developed a course in Advanced Placement biology and also served as coordinator of health programs for grades seven through 12.
Van Vleck and his wife, Eunice ("Eunie"), whom he married in 1951, moved to Middlebury in 1968 to accept the faculty position at the College, and they remained in the area for the rest of their lives to work and raise their three children: Carolyn, David, and Sarah. Eunice, who also worked in teacher education at Middlebury College, predeceased her husband in December 2018.
David Burton Van Vleck was born in Montclair, N.J., in 1929, and he showed an aptitude for academics from an early age. His parents sent him to the Loomis School in Connecticut, from which he matriculated at Princeton University and majored in economics and sociology. He earned his first of two master's degrees in 1952 from the School of Forestry at the University of Michigan; his second MS would come eight years later in mammalogy from Cornell University.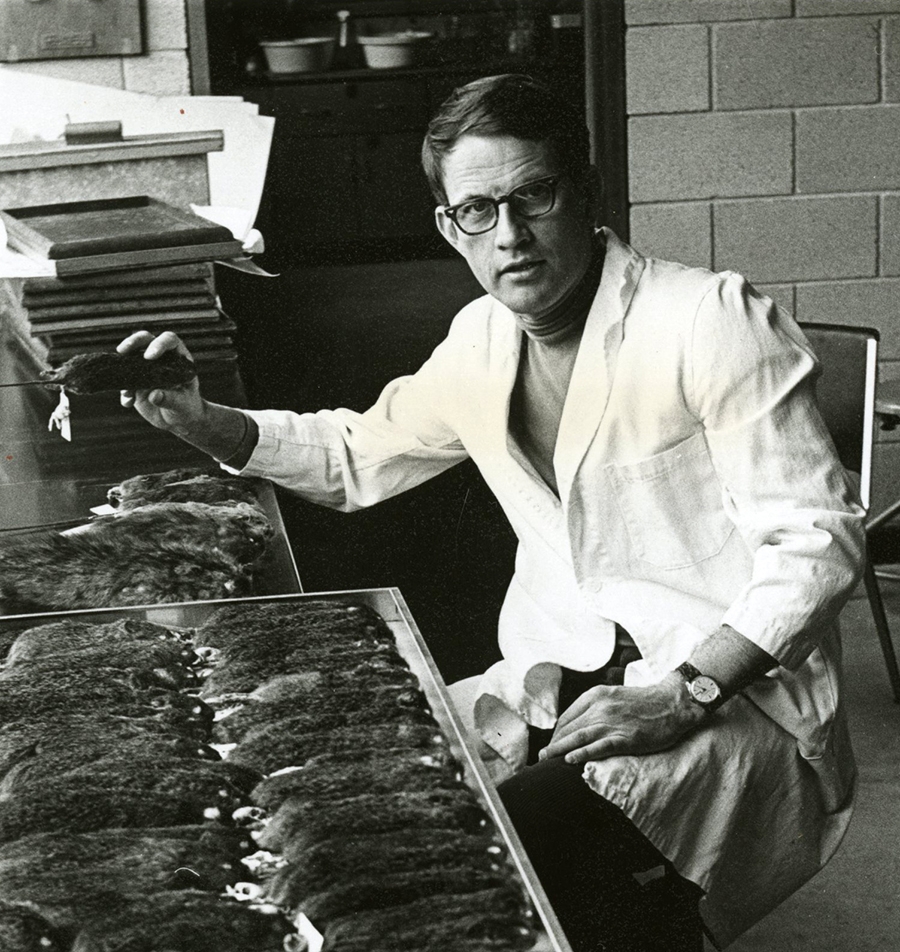 David Van Vleck in his lab at the old Science Center, circa 1970. (Click on photo to enlarge.)

Between his two master's degrees he served as a meteorologist in the U.S. Navy (1952-1954) before returning to Loomis to teach mathematics and science (1954-1958). He continued teaching in the early 1960s as a graduate assistant at Cornell while pursuing his PhD in population ecology, anatomy, and physiology. After earning his doctorate, the Van Vleck family moved to Florida where he taught comparative anatomy, comparative physiology, and human biology at the University of Miami from 1963 through 1968.
While at Middlebury, he wrote a 32-page booklet "How and Why Not To Have That Baby," which sold nearly a quarter of a million copies. Written for a lay audience, the book describes methods of birth control and traces the growth and implications of the burgeoning world population. He also published articles in scholarly periodicals like the Journal of Mammalogy and was a frequent speaker on the subject of reproduction and population growth.
When Van Vleck retired in his early 60s, he and Eunice pursued their interests in agriculture on the 140-acre farm the family acquired in Cornwall. In the 1990s they planted about 35,000 dwarf and semi-dwarf apple trees, which were known to yield in the vicinity of 140,000 bushels of apples every fall. They also raised black angus beef cattle, and their herd numbered well over 300 head in 2010.
The biologist was also civic-minded. He started a Planned Parenthood chapter in Middlebury in 1969 and was the Cornwall town moderator for seven years. A member of the Lions Club for two decades, he also served eight years on the Addison County Regional Planning Commission and five years on the board of the Addison County Audubon Society.
In addition to his interests in science, farming, population growth, civics, and ecology, Van Vleck was an intrepid world traveler who set foot on all seven continents. His travels took him to Europe, China, Russia, Tanzania, Chile, Antarctica, and India. Ever the inquisitive scientist, he also sailed the Bering Sea to explore and experience the Arctic region.
"My father was a huge environmentalist who was always ready to discuss overpopulation or the future shortage of the world's supply of oil," said his younger daughter, Sarah Van Vleck. "Dad was energetic and vital, he loved camping and the outdoors, and he was well loved in the Middlebury community."
Van Vleck was in good health through his 80s, continuing to play tennis weekly and taking a major trip almost every year. "He also was an awesome father and grandfather, as well as the 'acting grandpa' to several of his nephews' children," his daughter added.
The Van Vleck family is planning a memorial service for both David and Eunice in the summer of 2019. Donations in his memory to Planned Parenthood or the Vermont Land Trust are welcome.